Books, eBooks and audio books


Featured books


War is not an Instagram Post
Sunflowers at my Table: War Diaries of a Ukrainian Community by Amber Poole

Guardians of the Afterworld: A Novel by Stafford Betty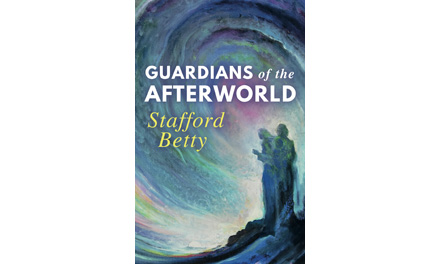 Fruva, a veteran life coach from a more evolved planet in the Milky Way, has been tasked with training Earth's new Guardians, Numen and Sephia, to govern the seven spheres of the Earth's afterworld. Numen is calm, collected, and analytical. Sephia is passionate, fiery, and intuitive. But their shared love for Earth and desire to help its inhabitants, both physical and astral, bind them together. Their journey will be fraught with challenges. They must quarantine and rehabilitate deceased terrorists, violent psychopaths, warmongering leaders, and soldiers killed in battle who hate their adversaries. They must comfort and educate orphaned children, nurse suicides back to health, remove vagabond earthbound spirits, reason with potential alien invaders, help Gaia manage Earth's geosphere and weather patterns, pay visits to the Shadowlands, attend ribbon-cutting astral construction ceremonies, celebrate great art and music, and much more—all in all a mammoth task. But their greatest challenge may be uniting people of different faiths under a universal spirituality. Numen's analytical mind and Sephia's passion and intuition will be invaluable assets in this endeavor. Together, they must succeed, for the future of Earth's inhabitants and the unfaltering order of its afterworld depend on them. Read more...

Feature articles
An Extraordinary Clairvoyant and an Extraordinary Policeman by Zofia Weaver


Jackowski's name became more prominent because of a case in the mid-1990s. The case in question took place in 1994-95 and involved three men who disappeared while on a business trip to Kaliningrad (Koenigsberg). Their families asked Jackowski for help and using a photograph of one of the men he sensed that the man was dead, as were his companions; their throats had been cut and they had been decapitated. The clairvoyant could hardly believe what he saw but when he tried again he saw three headless bodies in a forest at a specific location.

The Plane of Illusion: The Third Plane by Geraldine Cummins


BREVITY can be the soul of wit, but it can also be the soul of error. It will be necessary for me to create a small dictionary if I am to give you my views, in a few pages, on that interesting topic, eternal life. I shall first define the multitude of the newly dead, those tumultuous waves of life that break, daily and nightly, like the tides upon our shores. Birth and death are two words which contain the same meaning. How strangely they sound to me now; for I have lived so long in a state in which words are obsolete, in which thoughts reign supreme. Roughly, the newly dead may be divided into three categories: Spirit-man, Soul-man, Animal-man.

"It's Life And Death, But Not As You Know It!: Gerard Croiset by Tricia. J. Robertson


It is strange to think that some people seem to have the ability to tap into the consciousness of other people who are still alive, but they can. By this I do not just mean ordinary telepathic experiments with twins or other people or just the feeling of knowing what another person is thinking, but by studying people with very unusual talents. One such person was the Dutch clairvoyant Gerard Croiset. We usually think of the word clairvoyant in relation to a medium contacting a deceased person, but in Croiset's case he was indeed repeatedly able to tap into the consciousness of other people including those who had passed over and those still alive.
From Skepticism to Conviction of a Spirit World by Michael Tymn: At the time her husband, Theodore, died on December 23, 1895, May Wright Sewall, a leader in the suffrage movement, considered herself, as well as her husband, "Radical" Unitarians. "We desire immortality… Read more
Pulitzer Prize winning Author Offers Views on Life After Death by Michael Tymn: If famous American author Booth Tarkington (1889-1946) can still tune in to the earth vibration, my thanks go to him for providing this blog, as extracted, edited and abridged from his introduction to… Read more
William James, the Minister, and the Medium by Michael Tymn: After Professor William James carried out a dozen experiments with Leonora Piper and became convinced that she had supernormal powers, he arranged for 27 of his friends, relatives, and associates to sit… Read more
Do Spirits Influence Great Artists? by Michael Tymn: "It is not every medium who is able to get into the headlines of the British press without being ridiculed, but this feat has been achieved by Herr Heinrich Nusslein," psychical researcher Harry Price… Read more