Artistic resurrection
Posted on 28 April 2011, 13:06
It's in Room 41 at London's National Gallery should you wish to see it. It hangs there small and easily missed, separated from the Van Goghs and Cezannes by a 30 second walk – and about 50 years.
It was at an office lunch that I got into conversation with a colleague called Flavia who's in marketing and strategy. Our paths don't often cross but in a free-flowing chat over a couple of hours and much pitta bread, we discovered a shared love: the work of Caspar Freidrich, a German artist who straddled the 18th and 19th centuries.
One of my favourite paintings of his is Winter Landscape. I used to have a print of it but it was lost, with much else, when my home was flooded; and like a friend with whom we lose touch, I'd never quite got back in contact. But sitting there in the Greek restaurant my interest was re-awakened when Flavia told me that this painting was in the National Gallery – in Room 41.
Caspar Freidrich (1774 – 1840) was the son of a soap and candle maker who spent most of his life in Dresden. 'Art is infinite; finite all artists' knowledge and ability,' he said and his appeal for me is that whatever he paints, the infinite is always there but quite continuous with the finite. The horizon becomes the mountains becomes the trees becomes the land on which the viewer stands in contemplation.

Winter Landscape (below) is one of his more obviously religious paintings, with echoes of his Lutheran upbringing. Set in deep mountain snow, amid a small cluster of evergreens is the cross and crucified Jesus. Looking up at him is a crippled man who sits with his back to a rock – and in the icy foreground, two discarded crutches. At first view, it's a bleak scene: against a harsh and unforgiving landscape, two men familiar with grief face each other in a relationship of shared suffering. But Freidrich did not want to end the story there. Closer inspection of the canvass reveals the first tentative shoots of grass breaking through the snow; and faint in the background, we see a cathedral emerging from the mist against the pinky sky of eternity.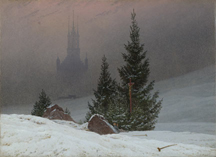 Friedrich had some early success in his life. Well regarded by his peers, the Russian royal family even brought some of his works. By 1820 however, he was out of fashion and unable to sell a painting; and after his death, he entered an oblivion of disregard. He was crucified first by the contemplative nature of his art – so out of step with the industrialising 19th century Germany; and later by association with the Nazis who used his works to promote themselves in the 1930's. Freidrich the artist was truly dead and buried.
Today, however, his reputation is restored in a resurrection of delight in critics and public alike - drawn to the vulnerable transcended by grandeur and things close blessed by the big horizon.
I do like a good resurrection.