Books, eBooks and audio books


Featured books


"The greater number of materialists persist in their opinion simply because they have not the slightest intuition of anterior existences. … Before their reincarnation, while they were wandering in the Astral … they were in a sleep. Reincarnated, they have not the faintest echo of the past, not the least intuition, and they naturally go straight to the belief that is the most materially logical."
~ Vettellini in The Survival of the Soul

The Survival of the Soul and Its Evolution After Death by Pierre-Emile Cornillier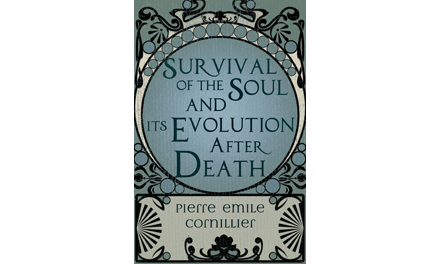 Pierre Emile Cornillier (1862–1942) was a French artist who had an interest in psychical research. One day in 1912, he noticed that Reine, an 18-year-old model he had been employing for several months, had psychic abilities of some kind. Read more...

Feature articles
Letter from A Living Dead Man: The Pattern World


When a man comes out here, the strangers whom he meets seem no more strange than the foreign peoples seem to one who first goes among them. He does not always understand them; there, again, his experience is like a sojourn in a foreign country.

Book and newspaper tests


Of all the evidence gathered supporting communication with spirits, book and newspapers tests rank near the very top, says Michael Tymn.

"From Self to Cosmic Consciousness" by Richard M. Bucke


I . . . If we are right in [the] assumption [that human evolution has not ceased] new faculties will from time to time arise in the mind as, in the past, new faculties have arisen.
Surgeon says Mortality can be a Horror for the Dying by Michael Tymn: In his best-selling book, "Being Mortal: Medicine and What Matters in the End," Dr. Atul Gawande, a surgeon and a professor at Harvard Medical School, discusses the failure of medicine to effectively deal… Read more
The ego mind is like "Hanging on to the tail of a wild horse" by Michael Cocks: During our conversations with the spirit of Stephen the Martyr, he often used picturesque language. Here he sees our clinging to our egotistic minds, swept by currents of emotion and unreason, as clinging… Read more
A New 'Number One' Book on the Afterlife. by Michael Tymn: In my blog post of December 5, 2016, I listed my "Top 30" old books – those published before 1950. Read more
Should We offer Religion or "Meaning" in our Classrooms? by Michael Tymn: Should public schools put religion in classrooms? That was the headline given to a feature editorial page article in my morning paper two weeks ago. Read more