Books, eBooks and audio books


Featured books


…you should neither be judged whether you be rich or poor, for neither state will qualify you for acceptance back to the Source.
~ Afterlife Teaching From Stephen the Martyr by Michael Cocks

I Saw A Light And Came Here: Children's Experiences of Reincarnation by Erlendur Haraldsson, Ph.D and James G. Matlock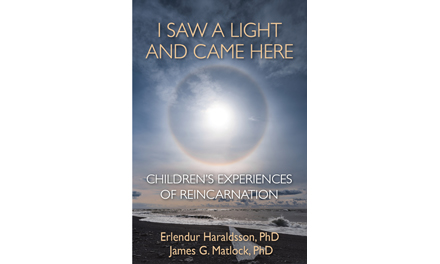 I Saw A Light And Came Here is the result of decades of scholarly research and investigations into past-life memories, primarily of children. Read more...

Feature articles
Premonitions of Disaster & Death by Michael Tymn


In one of his many stories, From the Old World to the New, a novel published in 1892, William T. Stead described the sinking of a ship as a result of hitting an iceberg in the North Atlantic. The story involved an actual ship named the Majestic, captained by Edward J. Smith, who later captained the "Titanic."

Dead Mother Comes to Woman in Dream and Helps Her Escape From Nazi Death Camp


Holocaust survivor Esther Raab's story of her mother coming to her in a dream and directing her to safety from Nazi executioners is great example of psychic functioning and worth reading.

"The Perennial Philosophy" by Aldous Huxley


Philosophia perennis—the phrase was coined by Leibniz; but the thing—the metaphysic that recognizes a divine Reality substantial to the world of things and lives and minds; the psychology that finds in the soul something similar to, or even identical with, divine Reality; the ethic that places man's final end in the knowledge of the immanent and transcendent Ground of all being—the thing is immemorial and universal.
Guarding Against Premature Cremation by Michael Tymn: After recently rereading the account of Dr. George Rodonaia's 1976 near-death experience, I paused to remind my wife that she should wait one week before having my remains cremated. I hope that my consciousness… Read more
"Conversations with God", "A Course in Miracles" and "Afterlife Teaching from Stephen the Martyr" by Michael Cocks: I have suggested that there is a lot in common between "Conversations with God", "A Course in Miracles" and "Afterlife Teaching of Stephen the Martyr". All claim to be teaching from the world of Spirit.… Read more
Stephen the martyr talks about the whole purpose of our life on Earth. by Michael Cocks: I was one of a group of people in the 1970s ostensibly conversing with the spirit of Stephen the first Christian martyr, and in my book I present linguistic, historical and other reasons why we may not… Read more
Death and the Afterlife: Let us Persevere by Michael Tymn: As a follow-up to my last blog post dealing with philistinism – our tendency to avoid talking about death and to seek a life of pleasure without any search for meaning, thereby leading to existential despair… Read more