Books, eBooks and audio books


Featured books


"The Spirit is neither born nor does it die at any time. It does not come into being, or cease to exist. It is unborn, eternal, permanent, and primeval. The Spirit is not destroyed when the body is destroyed ... Just as a person puts on new garments after discarding the old ones; similarly, the living entity or the individual soul acquires new bodies after casting away the old bodies."
Bhagavad Gita

Life Before Life: Is There Life Before Birth? 750 Cases of Hypnosis by Helen Wambach, PhD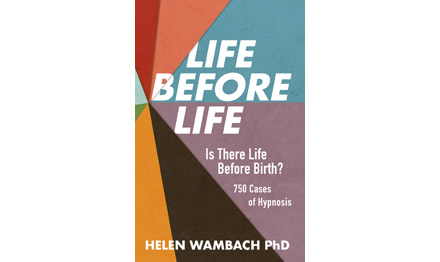 BACK IN PRINT In Life Before Life, psychologist Helen Wambach, PhD, documents cases from 750 past-life group hypnotherapy sessions. In an effort to rule out false memories, fantasies and wishful thinking, Wambach devised a protocol where she chose time-specific periods in the past and asked respondents where they were and what they were doing during that time. As expected, some respondents reported experiences while others reported nothing, prompting the question, did they report nothing because they were between lives? Read more...

Feature articles
DEATH ON THE BATTLEFIELD


By 1940 World War II was raging, and one of the most prominent men in Great Britain was Air Chief Marshal Hugh Caswall Tremenheere Dowding, more widely known as Lord Dowding. Dowding was the commander of RAF Fighter Command during the Battle of Britain and played a crucial role in thwarting Hitler's plan to defeat Great Britain. In the 1969 film, Battle of Britain, Dowding was played by one of Britain's much loved actors, Laurence Olivier.

"What You Call Death" by Silver Birch


Another time Silver Birch answered questions put to him by a young American soldier, whose brother had recently passed on. His first point, said the guest, was very simple. Hannen Swaffer had told him that when he first manifested Silver Birch had difficulty speaking English. So what language did the guide originally speak? The guide replied: "You see here a physical body – this that you call a medium, for the word means an intermediary, someone who is the instrument through whom something is sent. Now, there are various strata of life in our world. It is a world which is regulated by the spiritual growth of those who dwell in it. It is a graded life and in each grade – they all merge into one another – there are those who have attained that spiritual growth which enables them to dwell in that sphere or state or being.

After the Border Has Been Crossed by W. T. Stead


"After the Border Has Been Crossed" Although my communications with Julia have been more or less regular, for the last five years they been chiefly about matters in which I have been personally interested, and for nearly two years abstained from questioning her as to her life on the other side. In one of the last letters that she wrote, she excused herself from writing further at that time. She said she felt that it was almost a presumption for her to describe a country in which she had made so brief a, sojourn.
'Life Eternal' Explained by "Titanic" Victim by Michael Tymn: Before writing my 2012 book, "Transcending the Titanic," I read everything I could find by or about William T. Stead, the famous British journalist who was a victim of the "Titanic." I recently discovered… Read more
Professor of Religious Studies Survives Career in Exile by Michael Tymn: After Stafford Betty read my recent Amazon review of Bob Gebelein's book, "Dirty Science," he commented that "the book explains as well as any what happened to me in the suffocating academic environment… Read more
"Kindertotenlieder" or "Songs on the deaths of children". by Michael Cocks: I love Stephen's prayer about the Good Shepherd who leads us along our personal paths. The following story recounts how that Shepherd appeared to guide me as I drove over a mountain pass on a stormy night. Read more
Hitting the Wall, then Oblivion? by Michael Tymn: With Hurricane Douglas on a direct path toward Hawaii, where I live, during the last week of July, I had doubts about making it to my next age milestone of 1000 months on August 2. Read more