Books, eBooks and audio books


Featured books


"The truth can wait, for she lives a long life."
~Arthur Schopenhauer

Poltergeist Parallels and Contagion by Darren W. Ritson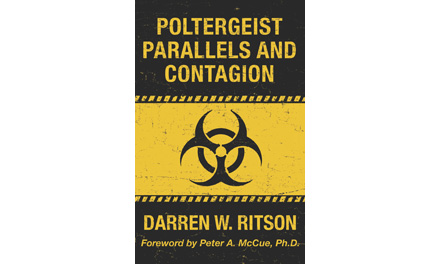 REVISED EDITION! WITH A FOREWORD BY PETER McCUE, Ph.D. More than fifteen years after the famous South Shields Poltergeist case of 2006, and its well-received book, The South Shields Poltergeist: One Families Fight Against an Invisible Intruder Darren W. Ritson brings you Poltergeist Parallels and Contagion, a fascinating revised and updated study of the poltergeist enigma. Read more...

Feature articles
"Breakthrough" by Konstantin Raudive: An Introduction by Peter Bander


The picture that now emerged was fairly clear: Dr. Raudive (through the work of a Swedish author Friedrich Jurgenson) had encountered the phenomenon of voices which appeared on recording tapes, apparently without human intervention, and could be played back at choice. These voices had certain characteristics but, although twice the speed of normal human speech, could be clearly understood. Further investigation had shown that the voices did not appear at random but seemed to respond to invitation to manifest themselves.

After the Border Has Been Crossed by W. T. Stead


"After the Border Has Been Crossed" Although my communications with Julia have been more or less regular, for the last five years they been chiefly about matters in which I have been personally interested, and for nearly two years abstained from questioning her as to her life on the other side. In one of the last letters that she wrote, she excused herself from writing further at that time. She said she felt that it was almost a presumption for her to describe a country in which she had made so brief a, sojourn.

Abduction: The Next Generation by John E. Mack


"If you keep asking them [the beings] questions, they keep reforming the thing in such a way that the questions get more provocative but can't quite be answered. . . . If you start saying, "Well, they are aliens and they're from this planet," you're lost. . . . I've often been in situations where the question has been impossible to live with. You can't not answer it, and you can't answer it either. And there you have it.
Toward a Rehabilitation of Purgatory and Hell by Stafford Betty: Elderly Catholics will remember the deep uneasiness they felt at the prospect of going to Purgatory. For them Purgatory sounded like Hell with a happy ending in a very distant future. In their parochial… Read more
Judgment After Death by Michael Tymn: If my evangelical and fundamentalist friends are right, I face a pretty harsh judgment after I die. My interest in the "demonic" things discussed in this blog and my books, as well as my failure to accept… Read more
Aerospace Magnate Robert Bigelow Searches for Answers on Life After Death by Michael Tymn: When Robert T. Bigelow, (below) the founder of Bigelow Aerospace in Las Vegas, Nevada, announced in January that he was launching the Bigelow Institute for Consciousness Studies (BICS) and sponsoring an… Read more
Dealing with Pascal's Wager on Life After Death by Michael Tymn: "We all die," is the subject line of a recent email sent by the Secular Student Alliance. The message following the subject line urges members to leave a donation – a legacy – that will make the world… Read more