Books, eBooks and audio books


Featured books


The surest way to escape that painful period of transition is to go into the hereafter with a full faith in immortality, a full faith in the power of the soul to create its own conditions.
~ Letters From a Living Dead Man

I Saw A Light And Came Here: Children's Experiences of Reincarnation by Erlendur Haraldsson, Ph.D and James G. Matlock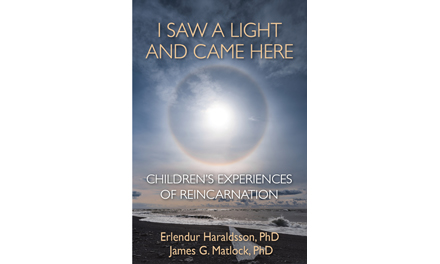 I Saw A Light And Came Here is the result of decades of scholarly research and investigations into past-life memories, primarily of children. Read more...

Feature articles
Christmas and New Year in the Afterlife


I wonder if I can make you understand? The love of Christ is always present in the world, because there are always hearts that keep it alight. If the idea of Christ as a redeemer should ever grow faint in the world, He would probably go back there and relight the flame in human hearts; but whatever the writers of statistics may say, that idea was never more real than at present. It may have been more talked about.

Leonora Piper: Confusion & Mixed Opinions


By the time Leonora Piper completed her English sittings in February 1890, fraud had been completely ruled out by all who had closely observed her a number of times, and it was clear to them that there was something supernormal going on.

"The Prison of the Senses" by Frederic Myers via Geraldine Cummins


Your present surroundings are, in a sense, your creation, in that you are mentally so unemancipated, your nerves and senses convey to you your perception of life. If you were capable of focusing your ego or daily consciousness within your deeper mind, if in short you trained yourself to pass into a thought compound from which form, as the senses convey it, were absent, the material world would vanish.
Will President Trump make us "One with our Toys"? by Michael Tymn: As the United States prepares for a change of leadership, many people are still scratching their heads and wondering how Donald Trump, a man so seemingly unpresidential, at least in the more traditional… Read more
The sense of being an 'I'. by Michael Cocks: If readers go to Amazon.com they will find lengthy reviews agreeing that the Stephen in my book is the historical Stephen, a Greek speaking Jew, who was the first Christian to be martyred, and die for… Read more
"Soul Mist" – the Most Popular Subject by Michael Tymn: Of the 160 posts at this blog since it moved to White Crow in April 2010 after several years at another site, the one with the most views was posted on October 4, 2010 and is titled "Strange Deathbed Mist… Read more
Was it really the spirit of President Lincoln? by Michael Tymn: A recent Travel Channel program discussed the purported spirit photo taken by medium William Mumler sometime in 1871, showing what appears to be the spirit of Abraham Lincoln standing behind his widow… Read more