Books, eBooks and audio books


Featured books


We are told by the Golden Rule that we should treat others as we would like to be treated. Now we find that we are one another, there is no fundamental separation between us. ~ David Lorimer

Resonant Mind: Life Review in the Near-Death Experience by David Lorimer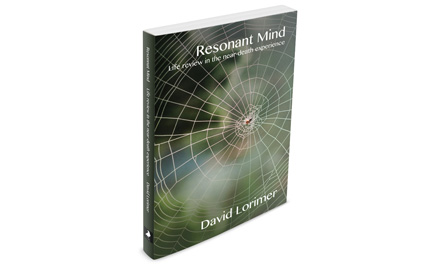 In this prodigious study of the interconnectedness of creation David Lorimer draws on worldwide traditions of the afterlife and detailed near-death experiences to posit an intrinsic moral order at work within the universe. About 10% of those undergoing a near-death experience also have a life review in which they re-experience events in their lives not only from their own viewpoint, but also as if they were other people involved in the same event. The very fact that this is possible indicates that our seemingly separate minds are in fact connected at a deeper level, and that in truth we are all aspects and expressions of the same One Mind. Read more...

Feature articles
The Role of Affinities and the Group-Soul by Anabela Cardoso


Affinities seem to play an important role in the next world. We have touched on the subject in a previous chapter and I have discussed it in earlier publications (Cardoso, 2010, 2003). Indeed, the meaning and importance of the Group-Soul described in the mediumistic literature, e.g. the information received purportedly from the deceased Frederic Myers by Geraldine Cummins (Cummins, 2012), have been emphasized in my own contacts.

Messages from a fallen soldier: a rumor of angels, Part 1
A heartwarming movie titled 'A Rumor of Angels' was released about six years ago and is an occasional rerun on television. Few people realize that it was based on a true story, although it took place in World War I, not the Vietnam War. The story came from the 1918 non-fiction book, Thy Son Liveth: Messages from a Soldier to his Mother, by Grace Duffie Boylan.
Atheist professor's near-death experience in hell left him changed


In some near-death experiences, people report they were drawn toward "the light." But in this horrifying near-death experience for an atheist art professor, he was drawn into the darkness of hell, which dramatically altered the course of his life. "I was a double atheist," says Howard Storm, who became a tenured art professor at Northern Kentucky University by age 27. "I was a know-it-all college professor, and universities are some of the most closed-minded places there are," he notes.
Asking God to take a back seat by Michael Tymn: According to a recent report by the Pew Research Center, more Americans say it's not necessary to believe in God to be moral. It goes on to explain that 56 percent of U.S. adults have this belief, up from… Read more
Stephen the Martyr on "The Sheep and the Goats" and the Afterlife by Michael Cocks: Michael: My questions relate to Trust [in life, in God]. As a matter of fact I think I am trusting more than I used to. I am less worried and am happier. But I am concerned about the theme going through… Read more
To levitate or to be levitated? That is the question. by Michael Tymn: For those who accept the overwhelming evidence that levitations of humans and objects have taken place on numerous occasions, the question is whether the levitations are triggered by some unknown power… Read more
Has President John F. Kennedy reincarnated, or not? by White Crow: On July 4, 1971 the Gadsden Times based in Gadsden, Alabama, reported a story titled "Has JFK reincarnated?" Read more