Stafford Betty blog


Welcome to My New Blog
Posted on 23 September 2011, 21:13
I am delighted to announce that White Crow Books will be publishing my novel The Imprisoned Splendor in a November 2011.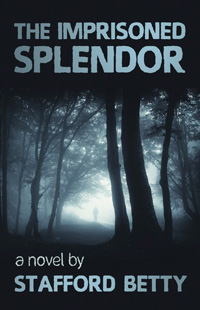 It's a story about a man forced to come to terms in the afterlife with the foolish and selfish mistakes he made on earth. Kiran is a gifted but self-absorbed college professor who grew up in Bombay (or Mumbai) and came to America to make a name for himself and get rich. Working at a leading California university, he gains national prominence as a professional philosopher. He lives in a conflicted marriage with Lisa, a glamorous but superficial American, but this union comes to an abrupt end on a visit home when he dies in a plane crash. We live through his horror as he watches death and annihilation gallop toward him, and we feel his amazement when he discovers he's still alive in a world he was certain could not exist. Now he must face his karma, and that will be harrowing. He relives the events of his life not as he experienced them, but as his victims did—his students, his fellow workers, above all the women who loved him. Eventually he seeks out Shalini. Many years ago she committed suicide after he rejected her in favor of her rival, Lisa. Shalini had been a gifted cellist, promising student of literature, and devotee of Sylvia Plath, whose suicide she copied. Working under the guidance of his saintly grandmother, the indomitable Plath, and several others (all now in spirit), Kiran, facing heavy odds, attempts to rescue Shalini from the murky Shadowlands in a dramatic climax to the story. Descriptions of the afterworld based on spirit communications provide the setting.
THE IMPRISONED SPLENDOR is much more than a paranormal romance novel. It's also a "message book"—like Richard Matheson's afterlife novel What Dreams May Come, still widely read after thirty years. I hope readers will be intrigued by the spirit-charged world they find here—with its unfamiliar laws and culture, its vivid landscapes and astral cities, and its lessons for common earth dwellers like us as we look toward our own future beyond death. This is not a religious book—no Jesus or Krishna found here. But it does have a strong spiritual dimension. It talks with compassion to wounded, struggling human beings, and it suggests that the Universe, moral to the core, holds us accountable for our actions in a world that many of us, like Kiran, don't even suspect exists.
This will be my third novel, following The Rich Man (St. Martin's) and Thomas (Penguin India). I teach world religions and death studies at a California university.
Read comments or post one of your own

About Stafford Betty
Posted on 03 September 2011, 14:03
Religious Studies Professor Stafford Betty was born into a Catholic family in Mobile, Alabama, the son of an economics professor teaching at the local Jesuit college. He was naturally attracted to religion from an early age.
After a short stint as a US Army engineer officer, he enrolled in a theology program at Fordham University in New York City. For his PhD dissertation, he translated from Sanskrit a 16th century Hindu theological text. From there, he took a job at California State University in Bakersfield, where he has taught courses for over three decades on the religions of the world (especially India), death and afterlife, philosophy of religion, and religion in literature.
He has published six books, most recently The Afterlife Unveiled (2011), and dozens of articles and essays on a wide variety of subjects. Two of these books are novels. A third novel, The Imprisoned Splendor, will be published by White Crow Books in autumn 2011.
Stafford thinks of himself as a Hindu Christian on some days, and a Christian Hindu on others. He has a deep conviction in the reality of spirit beings and worlds and is sympathetic to reincarnation. With his wife he attends the local Anglican church on Sunday mornings while keeping his unorthodox beliefs to himself. He has four sons and a daughter. He bikes to work and swims for exercise, and golf is his hobby.
Read comments or post one of your own

Test
Posted on 02 September 2011, 16:00
Test blog post for Stafford Betty
Read comments or post one of your own
We have been animals by Pierre-Emile Cornillier – Reine sleeps easily, grows cold from the very beginning of the passes, and then, to my surprise, returns to an almost normal temperature. Later on I learn that Vettellini, finding her in bad health, has arrested the chilling of the body. Read here