Steve Jobs' Final Words
Posted on 04 November 2011, 12:57
According to Steve Jobs' sister Mona Simpson, who gave the eulogy at her brother's memorial service on the campus of Stanford University October 16, Jobs' final words were, "OH WOW. OH WOW. OH WOW." From his deathbed he was looking past members of his family into the distance when he spoke these awe-inspiring syllables.
What did he see to inspire such a reaction?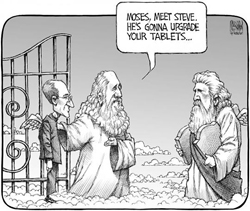 Those who have studied deathbed visions know the answer. Hospice nurses run across them all the time. In their landmark book Final Gifts, Maggie Callanan and Patricia Kelley write, "Many dying people tell of a place not visible to anyone else. Their descriptions are brief—rarely exceeding a sentence or two—and not very specific, but usually glowing."
Sometimes dying people see a beautiful light, sometimes a scene of glory that they take to be the world they are about to enter. "I really can't explain what it was like; words are just inadequate," said one of Callanan and Kelley's Hospice patients who had such a vision. These nurses tell of another patient, a confirmed atheist named Sandra, who had one. "I no longer believe that when I die I'll just come to an end," she said. These visions do not feel like hallucinations, but like real places.
Jobs told his sister shortly before he died that he was "going to a better place." Careful research into visions like his suggests that he was probably not disappointed.
Stafford Betty's new novel The Imprisoned Splendor
is published by White Crow books and available in November 2011 from Amazon and all good online book stores.
Paperback Kindle

Read comments or post one of your own