WHY GERALDINE CUMMINS MATTERS by Leslie Price
Posted on 02 February 2013, 21:58
White Crow has republished the 1990 Biography, Geraldine Cummins: An Appreciation by Charles Fryer. (1890-1969) Every person interested in mediumship should read this biography - why?
Geraldine specialised in messages through automatic writing. As Charles says "
There have been other well-known automatists, but not, I think, anyone of quite her stature or with so great an output , in this country, at any rate."
Charles was himself an automatist; his earlier book A Hand in Dialogue had presented a series of deeply interesting messages from his father. Charles therefore understood the difficulty of automatic writing, of not knowing for sure where the material came from.
He carefully researched Geraldine's life in London and Cork, and was helped by family and friends who had known her. But he believed he had extra help from Geraldine herself, on the other side, in tracing material.
Perhaps the most important messages received by Geraldine were from a lady who had herself been a medium, known as Mrs Willett, though her real identity ( Mrs Winifred Coombe-Tennant) had been private. The book of those scripts Swan on a Black Sea (1965) added significantly to the evidence for survival. Incidentally, at the time of my writing there is a delightful mis-statement in Winifred's Wikipedia entry "She had a long association with the writer and spiritualist Geraldine Cummins." In fact Geraldine did not know her in life, but psychical researchers such as Mary Rose Barrington pointed out that they had mutual friends.
Who was Charles Fryer? He was a clergyman whose self-deprecating wit delighted his friends in the Churches' Fellowship for Psychical and Spiritual Studies .
Charles draws attention to the problem encountered by Geraldine's family in her deafness. I too experienced this. In 1967 the College of Psychic Studies as it now is, held a teach-in about Raynor Johnson, whose messages through Geraldine, from his old friend Ambrose Pratt, are described in this book. Suddenly in the lecture hall, there was a loud voice - it was Geraldine asking her neighbour about a point made by the speaker.
Geraldine's portrait still hangs today at the College. But for a sympathetic and well-informed written portrait of this great medium, you should read this book.
Leslie Price (below) is one of the Psypioneer editorial team (archived at www.woodlandway.org.)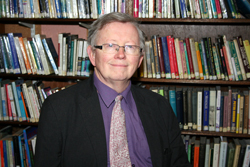 Geraldine Cummins: An Appreciation by Charles Fryer is published by White Crow Books and available from Amazon and other online bookstores
Read comments or post one of your own