. . . Very often, almost at every talk, [Gurdjieff] returned to the absence of unity in man.
"One of man's important mistakes," he said, "one which must be remembered, is his illusion in regard to his I.
"Man such as we know him, the 'man-machine,' the man who cannot 'do,' and with whom and through whom everything 'happens,' cannot have a permanent and single I. His I changes as quickly as his thoughts, feelings, and moods, and he makes a profound mistake in considering himself always one and the same person; in reality he is always a different person, not the one he was a moment ago.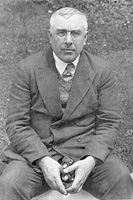 P. D. Ouspensky
"Man has no permanent and unchangeable I. Every thought, every mood, every desire, every sensation, says 'I.' And in each case it seems to be taken for granted that this I belongs to the Whole, to the whole man, and that a thought, a desire, or an aversion is expressed by this Whole. In actual fact there is no foundation whatever for this assumption.
Man's every thought and desire appears and lives quite separately and independently of the Whole. And the Whole never expresses itself, for the simple reason that it exists, as such, only physically as a thing, and in the abstract as a concept. Man has no individual I. But there are, instead, hundreds and thousands of separate small I's, very often entirely unknown to one another, never coming into contact, or, on the contrary, hostile to each other, mutually exclusive and incompatible. Each minute, each moment, man is saying or thinking 'I.' And each time his I is different. Just now it was a thought, now it is a desire, now a sensation, now another thought, and so on, endlessly. Man is a plurality.
Man's name is legion.
"The alternation of I's, their continual obvious struggle for supremacy, is controlled by accidental external influences.
Warmth, sunshine, fine weather, immediately call up a whole group of I's. Cold, fog, rain, call up another group of I's, other associations, other feelings, other actions. There is nothing in man able to control this change of I's, chiefly because man does not notice, or know of it; he lives always in the last I. Some I's, of course, are stronger than others. But it is not their own conscious strength; they have been created by the strength of accidents or mechanical external stimuli. Education, imitation, reading, the hypnotism of religion, caste, and traditions, or the glamour of new slogans, create very strong I's in man's personality, which dominate whole series of other, weaker, I's. But their strength is the strength of the 'rolls' in the centers. And all I's making up a man's personality have the same origin as these 'rolls'; they are the results of external influences; and both are set in motion and controlled by fresh external influences.
"Man has no individuality. He has no single, big I. Man is divided into a multiplicity of small I's.
"And each separate small I is able to call itself by the name of the Whole, to act in the name of the Whole, to agree or disagree, to give promises, to make decisions, with which another I or the Whole will have to deal. This explains why people so often make decisions and so seldom carry them out. A man decides to get up early beginning from the following day. One I, or a group of I's, decide this.
But getting up is the business of another I who entirely disagrees with the decision and may even know absolutely nothing about it. Of course the man will again go on sleeping in the morning and in the evening he will again decide to get up early. In some cases this may assume very unpleasant consequences for a man. A small accidental I may promise something, not to itself, but to someone else at a certain moment simply out of vanity or for amusement. Then it disappears, but the man, that is, the whole combination of other I's who are quite innocent of this, may have to pay for it all his life. It is the tragedy of the human being that any small I has the right to sign checks and promissory notes and the man, that is, the Whole, has to meet them. People's whole lives often consist in paying off the promissory notes of small accidental I's. . . .
On one occasion while talking with G. I asked him whether he considered it possible to attain "cosmic consciousness," not for a brief moment only but for a longer period. I understood the expression "cosmic consciousness" in the sense of a higher consciousness possible for man in the sense in which I had previously written about it in my book Tertium Organum.
"I do not know what you call 'cosmic consciousness,'" said G., "it is a vague and indefinite term; anyone can call anything he likes by it. In most cases what is called 'cosmic consciousness' is simply fantasy, associative daydreaming connected with intensified work of the emotional center. Sometimes it comes near to ecstasy but most often it is merely a subjective emotional experience on the level of dreams. But even apart from all this before we can speak of 'cosmic consciousness' we must define in general what consciousness is.
"How do you define consciousness?"
"Consciousness is considered to be indefinable," I said, "and indeed, how can it be defined if it is an inner quality? With the ordinary means at our disposal it is impossible to prove the presence of consciousness in another man. We know it only in ourselves." "All this is rubbish," said G., "the usual scientific sophistry. It is time you got rid of it. Only one thing is true in what you have said: that you can know consciousness only in yourself. Observe that I say you can know, for you can know it only when you have it. And when you have not got it, you can know that you have not got it, not at that very moment, but afterwards. I mean that when it comes again you can see that it has been absent a long time, and you can find or remember the moment when it disappeared and when it reappeared. You can also define the moments when you are nearer to consciousness and further away from consciousness. But by observing in yourself the appearance and the disappearance of consciousness you will inevitably see one fact which you neither see nor acknowledge now, and that is that moments of consciousness are very short and are separated by long intervals of completely unconscious, mechanical working of the machine. You will then see that you can think, feel, act, speak, work, without being conscious of it. And if you learn to see in yourselves the moments of consciousness and the long periods of mechanicalness, you will as infallibly see in other people when they are conscious of what they are doing and when they are not.
"Your principal mistake consists in thinking that you always have consciousness, and in general, either that consciousness is always present or that it is never present. In reality consciousness is a property which is continually changing. Now it is present, now it is not present. And there are different degrees and different levels of consciousness. Both consciousness and the different degrees of consciousness must be understood in oneself by sensation, by taste. No definitions can help you in this case and no definitions are possible so long as you do not understand what you have to define. And science and philosophy cannot define consciousness because they want to define it where it does not exist. It is necessary to distinguish consciousness from the possibility of consciousness. We have only the possibility of consciousness and rare flashes of it. Therefore we cannot define what consciousness is."
I cannot say that what was said about consciousness became clear to me at once. But one of the subsequent talks explained to me the principles on which these arguments were based.
On one occasion at the beginning of a meeting G. put a question to which all those present had to answer in turn. The question was: "What is the most important thing that we notice during self-observation?" Some of those present said that during attempts at self-observation, what they had felt particularly strongly was an incessant flow of thoughts which they had found impossible to stop. Others spoke of the difficulty of distinguishing the work of one center from the work of another. I had evidently not altogether understood the question, or I answered my own thoughts, because I said that what struck me most was the connectedness of one thing with another in the system, the wholeness of the system, as if it were an "organism," and the entirely new significance of the word to know which included not only the idea of knowing this thing or that, but the connection between this thing and everything else.
G. was obviously dissatisfied with our replies. I had already begun to understand him in such circumstances and I saw that he expected from us indications of something definite that we had either missed or failed to understand.
"In Search of the Miraculous" by P. D. Ouspensky by charles T. Tart is an extract from The Highest State of Consciousness edited by John W. White, published by White Crow Books and available from Amazon and other bookstores.
Paperback Kindle
www.whitecrowbooks.com/the highest state of consciousness