A Suicide Prevented?
Posted on 15 December 2014, 10:00
Suicide is one subject on which spirit messages coming through various mediums all seem to agree. While there are some conflicting messages relative to suicide by terminally-ill people, the messages overwhelmingly condemn conventional suicide. They strongly suggest that the individual who hopes to…

Do young atheists bond in a collective flight from death?
Posted on 01 December 2014, 11:15
A web site called The Friendly Atheist recently came to my attention. The first thing that struck me was that the editor and eight of the nine regular contributors all appeared to be in their 20s or early 30s, the ninth contributor perhaps in his 50s. Their brief biographies suggested…

The Society for Psychical Research Tackles Internet Encyclopedia Project
Posted on 17 November 2014, 11:09
I recently interviewed Robert McLuhan (below) for the December issue of "The Searchlight," a publication of The Academy for Spiritual and Consciousness Studies. Below is a slightly abbreviated…

Evidence of Psychic Phenomena vs. Enlightenment
Posted on 03 November 2014, 8:44
Many people complain that we get nothing but trivialities from mediums. They ask why the purported spirits don't tell us what life is like on their side of the veil, why we are here, what life is all about, something really meaningful.
William James, one of the pioneers of…

Five Different Mind-Sets in the Search for Truth
Posted on 20 October 2014, 10:50
When William Stainton Moses, a Church of England priest, first read about the mediumship of D. D. Home he called it the "dreariest twaddle." His good friend, Dr. Stanhope Speer referred to it as all "stuff and nonsense." It wasn't long after their cynical remarks were made that Moses discovered…

Musical Prodigies: Spirit Guides, Genetics, or Both?
Posted on 06 October 2014, 8:16
Have you ever wondered about your guides in the spirit world? Are they assigned to you at birth? Do different guides come and go during your lifetime? Do you have only one at a time? Do they choose you or are you assigned to them by some higher authority? In recently…

Departing Visions: An Interview with Dr. Carla Wills-Brandon
Posted on 23 September 2014, 9:30
I recently had the opportunity to interview Dr. Carla Wills-Brandon (below) for the September issue of The Searchlight, a publication of The Academy for Spiritual and Consciousness Studies (http://ascsi.org/). Here is an abridged…

Purgatory is for real
Posted on 08 September 2014, 9:04
It is difficult to generalize when it comes to traditional Jewish thought relative to the afterlife, as there are different schools of thought, one school not even believing in an afterlife, another school believing in it but not concerned with it, and still other schools with varying degrees of concern. …

Rolf Explains How Trance Mediumship Works
Posted on 25 August 2014, 11:00
The best explanation that I have read as to how trance mediumship works came from Rolf Little (below) as communicated through the trance mediumship of Gladys Osborne Leonard to his mother, Nelly Little, after his death during World War I.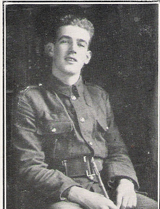 The Story of Australia's Greatest Medium
Posted on 11 August 2014, 14:42
Having read numerous books about mediums over the past 25 years, and having written about many of the best mediums, I thought I knew all their names. However, clearly I missed one. In recently reading a book entitled The Certainty of Eternity, authored by L.C. Danby, I…