Did Stephen Hawking Fail to See the Forest for the Trees?
Posted on 09 April 2018, 8:46
The militant atheists were running wild on the Internet recently. The death of physicist/cosmologist Stephen Hawking unleashed quite a few of them. "He was the most brilliant man in the world and he was one of us," they all seem to be proudly ranting and raving in their usual cacophony at various websites, the implication being that if Hawking (below) didn't believe any of the religious rubbish then you can be certain that it is all bunk. However, I'll go with another great scientist, physicist Sir Oliver Lodge, a pioneer in electricity and radio, who said, "Science is incompetent to make comprehensive denials about anything. It should not deal in negatives. Denial is no more fallible than assertion. There are cheap and easy kinds of scepticism, just as there are cheap and easy kinds of dogmatism."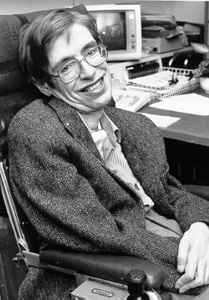 The militant atheists seem to assume that if God can't be seen in a telescope or microscope that He, She, or It, whatever God happens to be, can't exist. They further assume that any God must be the anthropomorphic (humanlike) God of religion and that an afterlife can't exist without such a God. They seemingly don't stop to consider that an afterlife might exist without the anthropomorphic God of religion.
Ask the militants to forget the question of God and closely examine many cases suggesting survival, such as those set forth in One Hundred Cases for Survival after Death, edited by A. T. Baird, and they'll just guffaw and say none of it is scientific. They claim fraud, delusion, hallucination, wishful-thinking, anecdotal, whatever works best for them, or they refer you to a Wikipedia page which is usually written by another militant atheist who claims that the particular person or case is just so much hogwash. They've been brainwashed in scientism and are at the other extreme from the fundamentalists of religion.
Yes, the cases set forth in Baird's book, which was published in 1944 and has now been republished by White Crow Books, are anecdotal and holes of one kind or another can be poked in each case, leaving some room for a doubt, but as Professor Lodge said, it is the cumulative evidence that provides conviction.
Consider Case No. 60 in Baird's book, having to do with Lodge's investigation of Boston medium Leonora Piper. When Piper visited England in 1889-90, Lodge carried out 83 experiments or sittings with her, including one in which he invited Dr. Gerald Rendall, principal of University College, Liverpool, to sit with Piper. He told her nothing about Rendall and introduced him under a fictitious name. After Piper went into her self-induced trance state, Phinuit, her spirit control, began speaking through her voice mechanism and provided much veridical information. Rendall reported to Lodge that everything was "quite correct." Phinuit named his four brothers, Charlie, Fred, Arthur, and Arnold, gave statements about his mother's death and that of his eldest brother, and talked about a woman named Agnes, a relative by marriage who had died of consumption 21 years earlier. Phinuit stated that Agnes was quite fond of his brother, Arthur, and that she had a close friend named Louis. "Regarding my two sittings," Rendall recorded for Lodge, "I am quite convinced of the genuineness of the phenomena; there was no opening for concerted fraud…"
The militant skeptic would say that Piper somehow investigated Rendall beforehand, and there is no way to prove that she didn't. The young militant might not appreciate how difficult it would have been to come upon such information in those days before computers and even telephones, especially with an ocean between them. Even today, it would not be that easy to come up with the name of a friend of a relative's wife. But the militants would further theorize that Piper was "fishing" for information and doing "muscle reading." They'd have us believe that Lodge and Rendall were dupes taken in by a clever trickster, that Lodge, one of the greatest scientists of his day, was duped 83 times.
Some references on Lodge suggest that he was all too willing to believe in survival because his son Raymond was killed in World War I. However, they overlook the fact that Raymond's death was some 25 years after he first investigated Mrs. Piper and some seven years after he defied the materialistic mindset of the day and professed a belief in survival after having admitted to being a materialist.
Further, consider case no. 67, involving Professor Herbert Nichols of Harvard University and Mrs. Piper. He also received names, places, and events from his past. One particular piece of evidence involved a ring which his deceased mother gave him and which he had lost. He asked the communicating spirit what the inscription inside the ring was and was given the exact word, a very peculiar one. In a letter to Professor William James of Harvard, Nichols wrote, "As you know, I have been a Laodicean toward her heretofore. But that she is no fraud, and that she is the greatest marvel I have ever met, I am now convinced."
The militant skeptics would not suggest telepathy or mind reading in the Nichols case, because even telepathy defies the laws of mechanistic science. Nichols must have been delusional; there can be no other explanation, the militants reason.
Jump back two cases to no. 65, several years before Piper was tested by Lodge and Nichols. This test was carried out by Dr. Minot Savage, a Unitarian minister, and was arranged by Professor James. In that sitting, Phinuit, speaking through Mrs. Piper, told Savage that an older man was there and was referring to Minot as "Judson." Phinuit also said that the man had a peculiar bare spot on his head. Savage understood this, explaining that Judson was his middle name and the name by which his father called him, even though everyone else called him Minot. Also, his father had suffered a bad burn at an early age, which left a large bare spot on his head, something he tried to disguise by brushing his hair over it. (It should be noted that spirits generally show themselves in a manner that they will be remembered, not as they are in spirit life.) "I was therefore naturally struck and surprised by suddenly hearing one who claimed to be my father giving me once more my old boyhood name," Savage reported to James. "I was not consciously thinking of these things, and I am convinced that Mrs. Piper couldn't have known anything about them."
During the same sitting, Phinuit also said, "Here is somebody who says his name is John. He was your brother. No, not your own brother, your half-brother." This brother also related personal facts from his life, including how he died, all of which Savage confirmed as true. "Many other things occurred during the sitting," Savage related. "But I mention only these, because, though simple, they are clear-cut and striking, and because I see no way by which Mrs. Piper could ever have known them."
The militant skeptic will tell you that mediums of the day knew each other and Mrs. Piper tapped into the medium "message board" for information about Savage before he sat with her, even though we are told that his name was not given to her beforehand. There is no end to "might have" or "could have" theories that the debunkers come up with. When those don't work, they point to the medium's failures, discounting all the "static" and "noise" that interfere with clear communication. They seemingly assume, as some religionists do, that if there is an afterlife that people become all-knowing and all-powerful and that the communication should be as clear as talking on a good telephone line, when, in fact, it is more like prisoners of war tapping out messages between cells.
One more Piper case, that of Professor N. S. Shaler, a renowned Harvard geologist. In Baird's case no. 66, he reported that he and his wife sat with Piper and she began by making true statements relating to his wife's deceased brother. "Certain of the facts, as, for instance, those relating to the failure to find his will after his sudden death, were very nearly and dramatically rendered," Shaler reported. "They had the real life quality. So, too, the name of the man who was to have married my wife's brother's daughter, and who died a month before the time fixed for the wedding, was correctly given, both as regards surname and Christian name, though the Christian name was not remembered by my wife or me."
A few other cases among the 100 offered by Baird have to do with Mrs. Piper, but there is a wide variety of cases not involving her. Some have to do with veridical apparitions and deathbed visions, some with other mediums. Some are more convincing than others. Baird added another 100 cases in a second book, Case Book for Survival. I could add 200 cases to his 200, many more involving Leonora Piper as set forth in my book, Resurrecting Leonora Piper. But the militant skeptic would shrug them off as anecdotal and unscientific. All of those intelligent men and women were simply duped as they had a "will to believe," they would say with much hubris. There can be no other explanation because it all defies the laws of nature and science.
My guess is that Professor Hawking was too busy studying the cosmos to ever look at such evidence. He was likely focused on the trees and never saw the forest. Some believers might say that Hawking now knows better, but I wonder if he does. There is considerable spirit communication suggesting that we continue to believe as we did when we parted the material world. The Catholics remain Catholics, the atheists stay atheist, etc., until they have fully adapted to the spirit world and are prepared to grasp the reality of it all. This seems to suggest that the non-believer, at least the militant one – the one who has taken pride in his insolence while trying to influence others toward his belief – will not even realize he is dead for some time after death and will live in some kind of dream world for a time, however time plays out there.
To again quote Sir Oliver Lodge: "I tell you with all my strength of the conviction which I can muster that we do persist…I say it on distinct scientific grounds. I say it because I know that certain friends of mine still exist, because I have talked with them."
Michael Tymn is the author of The Afterlife Revealed: What Happens After We Die, Resurrecting Leonora Piper: How Science Discovered the Afterlife, and Dead Men Talking: Afterlife Communication from World War I.
Next blog post: April 22
Read comments or post one of your own