Latest research on near-death experience supports survival hypothesis
Posted on 12 July 2010, 14:12
Over the past 35 years, near-death experience (NDE) researchers like Drs. Raymond Moody, Elisabeth Kubler-Ross, Kenneth Ring, Michael Sabom, Bruce Greyson, Melvin Morse, Barbara Rommer, Sam Parnia and others have built a very solid wheel, one that supports the idea that we have a spirit body as well as a physical body and that consciousness remains with the spirit body after physical death. Close-minded skeptics keep trying to make the wheel collapse by bending the spokes and throwing obstacles in the path of the rolling wheel.
Every now and then, as happened a month or two ago, the theory that the NDE is nothing more than abnormal brain activity resulting from oxygen deficiency gets resurrected and makes its way around the Internet and the print media as if it is news rather than something that goes back 25 or more years. The pseudoskeptics' blogs make it out to be some sort of victory in their war on superstition and ignorance, and they seemingly take great pride in their 'intellectualism.'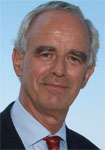 Fortunately, new researchers come on the scene to debunk the pseudoskeptics and keep the wheel rolling. In his recently released book, Consciousness Beyond Life, Dr. Pim van Lommel (pictured above), a world-renowned cardiologist practicing in The Netherlands, dismisses the oxygen-deprivation theory based on the fact that it is 'accompanied by an enhanced and lucid consciousness with memories and because it can also be experienced under circumstances such as an imminent traffic accident or a depression, neither of which involves oxygen deficiency.'
Tunnel effect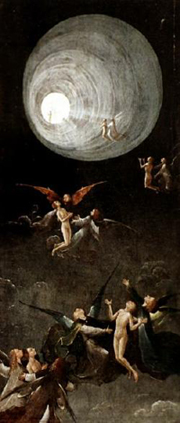 Van Lommel also dismisses the theory that the tunnel effect experienced by many NDErs also results from a disruption of oxygen to the eye or the cerebral cortex. He points out that oxygen deficiency in these areas cannot explain meeting deceased relatives in the tunnel, as has often been reported, or hearing beautiful music. He explains why carbon dioxide overload, various chemicals, and other physiological theories do not account for the NDE. 'When new ideas do not fit the generally accepted (materialist) paradigm, many scientists perceive them as a threat,' van Lommel writes. 'It is hardly surprising therefore that when empirical studies reveal new phenomena or facts that are inconsistent with the prevailing scientific paradigm, they are usually denied, suppressed, or even ridiculed.'
Having grown up in an academic environment, van Lommel was of a materialist/reductionist mindset before he began studying the NDE and the nature of consciousness. He has closely examined all the arguments made by the scientific fundamentalists and now has a more positive outlook. 'That death is the end used to be my own belief,' he states with conviction. 'But after many years of critical research into the stories of the NDErs, and after a careful exploration of current knowledge about brain function, consciousness, and some basic principles of quantum physics, my views have undergone a complete transformation. As a doctor and researcher, I found the most significant finding to be the conclusion of one NDEr: 'Dead turned out to be not dead.' I now see the continuity of our consciousness after the death of our physical body as a very real possibility.'
In another 2010 book, Evidence of the Afterlife, Dr. Jeffrey Long, a radiation oncologist in Houma, Louisiana, comes to the same conclusions as van Lommel. 'Near-death experiencers almost never have confused memories that are typical of the experience of hypoxia,' he writes, (hypoxia being reduced oxygen levels in the blood and tissues). 'The fact that highly lucid and organized near-death experiences occur at a time of severe hypoxia is further evidence of the extraordinary and inexplicable state of consciousness that typically occurs during NDEs.'
Many researchers, fearing professional sanctions and obloquy from their peers, beat around the bush when it comes to the life after death implications of the NDE, but, like van Lommel, Long does not cower in this respect. 'By scientifically studying the more than 1,300 cases shared with [the Near-Death Experience Research Foundation],' he writes, 'I believe that the nine lines of evidence presented in this book all converge on one central point: There is life after death.'
One of the more convincing aspects of the NDE for Long is the ability of some blind people to 'see' during the NDE. '…blind people who have near-death experiences may immediately have full and clear vision,' he offers. 'This is further evidence that vision in NDEs, including near-death experiences in those who are not blind, is unlike ordinary, physical vision.'
Life review
Long reports many interesting NDEs, including one by a man named Roger who was in a head-on auto accident and immediately left his body. He told of seeing events from above. 'I went into a dark place with nothing around me, but I wasn't scared. It was really peaceful there. I then began to see my whole life unfolding before me like a film projected on a screen, from babyhood to adult life. It was so real! I was looking at myself, but better than a 3-D movie as I was also capable to sensing the feelings of the persons I had interacted with through the years. I could feel the good and bad emotions I made them go through…'
Skeptics seem to have a theory for every aspect of the NDE, including the life review which so many others have reported. The skeptical take on the life review is that it is a psychological defense mechanism permitting a retreat into pleasant memories. But Long points out that many memories are not pleasant and that such unpleasant memories would not be expected in a psychological escape.
But how can a person see every moment of his life flash before him in an instant? As van Lommel sees it, many aspects of the NDE correspond with or are analogous to some of the basic principles from quantum theory, which is non-local, i.e., timeless and placeless interconnectedness. 'The findings of NDE research suggest the possibility that (nonlocal) consciousness is present at all time and will therefore last forever,' van Lommel explains. 'The content of a near-death experience suggests a continuity of consciousness that can be experienced independently of the body.'
Lost dentures
One of the more veridical and interesting NDEs reported by van Lommel involved a 44-year-old man brought into the hospital while in a deep coma. When a nurse started to intubate the patient, she discovered he had dentures. She removed the upper dentures and put them on a nearby cart. The patient remained comatose throughout the procedure and for a week after.
After regaining consciousness, he was returned to the coronary unit and as soon as he spotted the nurse, he asked about his dentures. '…you took my dentures out of my mouth and put them on that cart,' he told her. 'It had all these bottles on it, and there was a sliding drawer underneath, and you put my teeth there.' The patient said that he watched from above as the doctors and nurses worked on him and that he unsuccessfully tried to let them all know that he was still alive, and that they should not stop. Possibly, he was not 'unsuccessful,' since they did continue to work on him and he did survive.
Interestingly, Long reports that it takes as long as seven years or more for a person to fully integrate the NDE into his or her life. This is consistent with the biological rule that we turn over every cell in the body every seven years. It is also consistent with the 'seven-year itch' idea, which holds that there is an inclination to become unfaithful after seven years of marriage. That idea has been broadened to suggest that there is an urge to move on from any situation after seven years, whether it is a hobby or some other passion.
Organ transplants
Something I have found particularly troubling over the years is the possibility that organs are being harvested before bodies are actually 'dead,' even though the person might be pronounced 'clinically dead.' Van Lommel devotes several interesting pages to the debate on this subject, pointing out that when brain death has been diagnosed, 96 percent of the body is still alive. While not in principle opposed to organ transplants, van Lommel suggests that more consideration should be given to the nonphysical aspects of organ donation, including the fear of death. As I interpret his comments, he is saying that perhaps that in many organ failure situations we should let nature take its course and not concern ourselves so much with surviving in this world.
Long quotes Sir John Eccles, a Nobel Prize-winning neuroscientist who studied consciousness: 'I maintain that the human mystery is incredibly demeaned by scientific reductionism, with its claim in promissory materialism to account eventually for all of the spiritual world in terms of patterns of neuronal activity. This belief must be classed as superstition…We have to recognize that we are spiritual beings with souls existing in a spiritual world as well as material beings with bodies and brains existing in a material world.'
Michael Tymn is the author of The Afterlife Revealed: What Happens After We Die, Resurrecting Leonora Piper: How Science Discovered the Afterlife, and Dead Men Talking: Afterlife Communication from World War I.