Proof of Spirits? You be the Judge!
Posted on 25 July 2011, 14:04
"Show me the proof!" the skeptic, or pseudoskeptic, demands when it comes to various paranormal phenomena, especially those suggesting spirits of the dead. But, as Arthur S. Berger, a retired lawyer, points out in his recent book, Evidence of Life After Death, "proof" is subjective. It is the "evidence" that must be weighed by the individual in arriving at his or her own estimate of "proof."
Berger analyzes 30 cases reported to the Survival Research Foundation and other research organizations suggesting spirits and the survival of consciousness at death. He presents the arguments for survival, the counter-arguments, the arguments to the counter arguments and so on, leaving it to the reader to come to his or her own conclusion relative to proof. One of the more interesting cases examined by Berger is referred to as "The Paraffin Glove Case." It is certainly one of the most intriguing cases in the annals of psychical research. It strongly suggests spirits, but, as with every case there is always room for doubt. Here is a summary of that case:
The experiments were conducted during the latter months of 1920 by Dr. Gustave Geley, a French physician who taught medicine at the University of Lyons before becoming the director of the Institut Metapsychique International in Paris, where he devoted full time to studying mediumship and other paranormal phenomena. The medium in this case was Franek Kluski, a 50-year-old Polish writer and poet who had discovered his mediumistic abilities just 18 months before Geley began studying him.
Charles Richet, M.D., Ph.D., a professor of medicine at the University of Paris and the 1913 Nobel Prize winner in medicine, assisted Geley in some of the 14 experiments with Kluski as did Camille Flammarion, a world-renowned astronomer. All of the experiments were conducted in Geley's laboratory behind locked doors under strictly controlled conditions. There was no opportunity for the medium to smuggle anything into the room and the medium was always searched before entering the room. With some mediums, so careful was Geley that he went so far as to require gynecological and rectal examinations to be certain nothing was smuggled into the room in an orifice of the body. Because the ectoplasm produced by mediums is sensitive to bright lights, red lights were used, permitting adequate visibility, although it was inadequate for photography and there was concern that flash photography would injure the medium as it had reportedly done with other mediums (since the ectoplasm has to be reabsorbed by the medium).
Kluski's mediumship was of the materialization type, although he apparently was not developed enough, or strong enough, to produce full materializations. Faces, arms, and hands were usually observed. "I saw a hand at the end of an arm form under my eyes, cross the circle in front of Mr. Kluski and touch Mme. Geley, who was facing me," Geley recorded one of many observations. "It was a masculine hand, very well formed. The wrist was slender, the forearm and upper arm were enveloped in white tissue with regular longitudinal folds. Immediately after the contact felt by Mme. Geley the hand disappeared."

Geley noted that Kluski's ectoplasm was of the vaporous type rather than the more liquid form he had observed with other mediums. "The usual course of the phenomena," Geley wrote, "is as follows: First a strong odor of ozone is perceptible…The smell of ozone comes and goes suddenly. Then, in weak light, slightly phosphorescent vapor floats around the medium, especially above his head, like light smoke, and in it there are gleams like foci of condensation. These lights were usually many, tenuous, and ephemeral, but sometimes they were larger and more lasting, and then gave the impression of being luminous parts of organs otherwise invisible, especially finger ends or parts of faces. When materialization was complete, fully formed hands and faces could be seen."

Geley further noted that the lights represent the first stages of materialization. They would sometimes disappear at once and sometimes proceed to characteristic human forms.
As Geley, Richet, and other researchers came to see it, the fact that many of the materialized forms were incomplete or fragmentary, sometimes very hokey looking, did not suggest fraud, as many skeptics assumed. Rather, they were simply indications that the medium was not strong enough or developed enough to produce complete materializations. In fact, the incomplete and stranger manifestations seemed to run contrary to any fraud explanation as it is highly unlikely that a charlatan would have expected anyone to believe they were real in the first place.
Geley decided to see if he could get the "entities" – it would have been very "unscientific" for him to speak of them as "spirits" – to produce paraffin molds of their hands, feet, or even their faces. "The procedure is to set a bowl containing paraffin wax, kept at a melting point by being floated on warm water, near the medium," he explained. "The materialized 'entity' is asked to plunge a hand, foot, or even part of a face into the paraffin several times. A closely fitting envelope is thus formed, which sets at once in air or by being dipped into another bowl of cold water. This envelope or 'glove' is then freed by demateriazation of the member. Plaster can be poured at leisure into the glove, thus giving a perfect cast of the hand."
Communication from with the "entities" was carried out by loud raps, e.g., one rap for no, three for yes, and so many for each letter of the alphabet, and there was no question in Geley's mind that there was some kind of intelligence operating. At one sitting, the entities asked those in the room to sing, apparently because more harmony was needed, and as they sang, Geley and the others heard hand clapping, apparently from several entities.
To completely rule out any sleight of hand by Kluski – although Geley and the others were certain he was not a trickster – Richet held one of Kluski's hands while Geley held the other during the experiment. In their experiment of November 15, the hand of a child was produced in the paraffin. In a later experiment, on December 27, Geley and Richet added some bluish coloring matter to the paraffin. "This was done secretly, to be an absolute proof that the molds were made on the spot and not brought ready-made into the laboratory by Franek or any other person and passed off on us by legerdemain," Geley further explained. Two very good hand molds were obtained, one a left and one a right hand, both the size of children five to seven years old." He further noted that both had a blue tinge to them.

"In completing our investigations, we have verified that the lines of the hands have nothing in common with those of the medium" Geley wrote, mentioning that even though the hands were all smaller than Kluski's he still had them examined by M. Bayle, a criminologist at the Paris police department, to confirm they had nothing in common. "The answer can scarcely leave room for doubt," Geley concluded. "They present all the characters of human members – perfect form, lines of the hand, nails, crinkles of the skin, marks of bony protuberances, tendons, and sometimes even the small veins on the back of the hands. Nothing is wanting. We have shown these casts to artists, painters, sculptors, and molders, and to many medical men. The verdict of all has been unanimous – they are molds of human hands." Geley also noted that traces of muscular contraction indicate that the hands were "alive."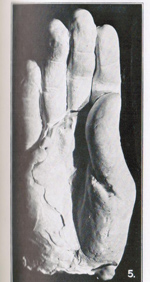 And so what is to be made of the paraffin hands? Is it evidence of spirits? Does the evidence add up to proof for those with open minds? As Berger points out, if a person is willing to accept the credibility of Geley, Richet, and the others conducting the experiments, it is very difficult to conclude that fraud was involved. Then again, there is a school of thought, one which Richet subscribed to, which holds that the subconscious mind is capable of producing such phenomena, even though science is incapable of understanding it. Publicly, Richet, while recognizing the reality of various phenomena, rejected the spirit hypothesis, perhaps out of concern for his high standing in the scientific community, although there were indications that privately he accepted it.

"There is ample proof that experimental materialization (ectoplasmic) should take definite rank as a scientific fact," wrote Richet, who won the Nobel Prize for his research on anaphylaxis, the sensitivity of the body to alien protein substance. "Assuredly, we do not understand it. It is very absurd, if a truth can be absurd."
Before he was killed in a 1924 plane crash, Geley concluded that the Self both pre-exists and survives the grouping which it directs during one's earth life, "that it more particularly survives its lower objectification during this life. This may at least be admitted, if not as a mathematical certainty, at least as a high probability."
And that "high probability" seems to equate to the "beyond a reasonable doubt" standard which Berger holds to in his book. However, that is the standard in criminal law. The "preponderance of evidence" standard of civil law is much easier to meet than the "beyond a reasonable doubt" standard, so even if there is reasonable doubt one can still conclude that there is a preponderance of evidence in favor of spirits. In effect, that means that the spirit hypothesis is more likely than the fraud, subconscious, or any other far-fetched explanation.
Still, the closed-minded "skeptic" insists that those esteemed men of science must have been duped somehow, because there is no spirit world and therefore fraud is the only explanation. The regurgitation theory was advanced by some "skeptics." That is, the medium swallowed the material before going into the room and then regurgitated it after entering the room, the dim red light preventing the researchers from detecting it. However, Geley and other researchers were aware of this theory and took special precautions to rule it out. With another medium studied by Geley, a hard-core materialist, upon hearing of all the controls exercised by Geley, suggested that perhaps the medium had a false tooth in which she smuggled various things into the room. And so it goes, if there is a "will to disbelieve," there is never enough "proof" for the "skeptic" and there apparently never will be.
Michael Tymn is the author of The Afterlife Revealed: What Happens After We Die, Resurrecting Leonora Piper: How Science Discovered the Afterlife and Dead Men Talking: Afterlife Communication from World War I.

Comments
Cathy,
I am very sorry to hear of the transition of your daughter, but I am glad to know that she has given you signs of her continuing existence. I an not a grief counselor, but it sounds to me like her signs and appearances have been comforting to you. So if others are not willing to accept what you are seeing, that is their problem. I'm not quite sure what kind of book you are looking for, but I had hoped that my recent book, "The Afterlife Revealed," would give comfort to people who have lost loved ones. You might also want to check out Dr. Raymond Moody's latest book, "Glimpses of Eternity."
Michael Tymn
, Mon 1 Aug, 12:49


my daughter recently passed 21/6/2011 i am open minded and first seeing orbs through my grandaughters baby monitor, we believe it was her late grandmother as she grew up in the house and slept in the room, which brings me back to my daughter courtney who was 14 yrs old. I have been experiencing mist and flurro smoke and shooting tiny stars in my room, courtney forms and floats down to me around me, also when im sitting outside at night i see her form and come to me her energy is very strong, i get frustratated because i want others in my family to see what i see but they cant, they believe as they have seen pictures and also wittnessed through the baby monitor, and believe me we try everything to debunk the monitior, they only came in when baby was put to bed they would visit once she was asleep the would leave. I feel i am so blesssed to have this experience. i dont care what anyone says our body is made of energy when we pass wer does our energy go to the universe. could you send me more information, love and blessings Cathy & Courtney
cathy
, Sat 30 Jul, 10:48


Absolutely fascinating, Mike. Berger has done an excellent job, as have you in expounded this case with its "hard evidence." I shall share this with my Ethics class. Just today we began talking about Socrates, who believed in life after death as well as reincarnation.
"Evidence" is judged by what fits into a person's world view or conceptual framework. The skeptic's world view allows nothing to count as "evidence." Quite simply, there are no spirits; so any phenomenon claimed to be evidence for spirits is summarily dismissed. I wrote my Ph.D. dissertation on this kind of issue. In my judgment, every conceptual framework (a religion, a scientific field such as Darwinian biology or Newtonian physics—and looking at Washington, we might add "dogmatic political perspective) all have the same "logical" structure. (1) At the core of the conceptual framework are fundamental beliefs, expressed as principles (I call them "first-order principles) around which the conceptual framework revolved. (2) These principles are used than as principles IN ACCORDANCE WITH WHICH phenomena are interpreted and, as such, nothing is ALLOWED TO FALSIFY them. (3) Since truth-claims are based on "evidence," and since "evidence" (what is allowed to count as evidence) is determined by the using the first order-principle to generate evidence, (a) not only can nothing disprove the conceptual framework but (b) it is legitimate to claim that the framework is "true," ie. supported by evidence.
So naturally the skeptic CANNOT accept any evidence for spirits, or else he would have to relinquish his world view.
A superb article. Thanks so much for sharing it.
Appreciatively, John
John Miller III
, Thu 28 Jul, 02:15


Hi, Mike,
The evidence about which you write is just amazing. It's so paradigm-blasting that I think many people just cannot make the jump to what it exhibits. Thanks for writing this! I had not known the facts about how those paraffin hands in Paris came to be! They are like koans: The mind can't stay in it's reductionistic conditioning of materialism and also figure these wax hands out…...so it's much safer to stay ignorant of what you write! Or say, "I don't know."
Jane Katra
, Wed 27 Jul, 11:37



Add your comment