When an "Ape-Man" Materialized in a Scientist's Lab
Posted on 07 February 2011, 18:36
It is difficult to find anything more bizarre or hokey-looking than various photos having to do with ectoplasm and materialization in books about the paranormal and psychical research. Some of them appear so ridiculous that it is difficult to believe that anyone in his right mind would take them seriously. And yet they were taken seriously by a number of very distinguished scientists, including a Nobel Prize winner in medicine and two British scientists knighted for their scientific work. Moreover, all of those who did take it seriously concluded that it was real. Only the "know-nothings" wrote it off as fraud.
"A materialization in process"

As various researchers came to understand it, "spirit scientists" on the other side of the veil would withdraw "magnetic fluids," called ectoplasm, from the medium and sometimes from the sitters, and then discarnates would project thought images of themselves, or as they remembered themselves when alive, into the ectoplasm to create materialized likenesses of themselves. They would also sometimes create an artificial voice box so that they could speak. However, only a very small percentage of these materializations were good likenesses of the person when alive. It apparently took some practice or special focus by the spirit entity to carry out a good materialization. One spirit told Dr. Charles Richet, the 1913 Nobel Prize winner in medicine, that he could not materialize because he could not remember what he looked like when alive. Many of the older spirits lived before photography and had no fixed images of what they looked like. Think about it; if you had no photographs of yourself would you remember what you looked like as a child? The ability of spirits to materialize has been likened to asking a person in the flesh to draw a picture of him- or herself. Most people would fail badly at doing a self portrait, but some of the more artistic would no doubt succeed.
Many of the materializations were bizarre to say the least. Some looked like mannequins, some like plastic or rubber dolls, and some were not even three dimensional. They came out as flat drawings. Vice-Admiral W. Usborne Moore, a retired British naval commander turned psychical researcher, reported witnessing two failed materializations. "The figure of a woman tried to build up outside the cabinet, but collapsed before it was completed; and there was one brilliant etherialization outside that fell and dissipated after rising two feet," he reported. However, Moore's mother and father succeeded in materializing as did the mother of Dr. Cesare Lombroso, a world-renowned Italian neuropathologist who gave us the science of criminology. The purported mother of Professor C. J. Ducasse of Brown University materialized, but Ducasse said it did not look like her. Dr. John King, a Toronto physician and president of the Canadian Society for Psychical Research, observed a perfect duplicate of his wife, including form, features, voice, and mannerism, together with tangibility, power, and zeal. King reported that she stood and talked with him about personal matters before melting away into the floor.
King also witnessed an actual materialization process. "I noticed a light upon the carpet, phosphorescent in appearance, about the size of a 25-cent piece or English shilling, which soon became more extensive, and apparently rose as a vapor from which evolved curling flame-like white and purple light, until suddenly it took on tangible form, and developed what all the sitters agreed upon as being beyond doubt a beautiful young woman, clad in draperies of creamy white, bearing supported or suspended above her head a purple ball of light, which, however, seemed physically separate from any connection with the head; and which illumined the entire room and simultaneously the air was impregnated with odor of a most delicate and agreeable perfume, resembling nothing I had ever inhaled."
The spirits who were successful in materializing were limited in how long they could hold on to the earth vibration. It was likened to a human trying to stay underwater.
But not all materializations were spirits of the dead. As reported by Dr. Arthur J. Wills, president of the U.S. College of Psychic Science and Research, a woman named Mary C. Viasek, an experienced astral traveler, conducted an experiment with Mrs. Z. J. Allyn, a materialization medium. While on a train in Utah, Viasek was able to project her etheric or astral body to Allyn's home in Los Angeles during a séance and to materialize there. She reported encountering a "spirit chemist" who gave her instructions on how to materialize. "Think your features positively, just as you are! Think your hair! Your eyes! Think your form! Think your arms! Think your hands! Think your feet!" Then the chemist placed some substance over her to form her dress, a garment of white lace. This, Viasek explained, was a creation of the chemist, not of her thought. We also get some indication from this as to why some materializations involved only faces or torsos without legs. When one spirit was asked by the sitters why they could see only his face, he responded that he had only visualized his face.
.
But there was also a third kind of materialization – the projection of the medium's dream world into the ectoplasm. At least this seems to have been the case in some experiments conducted by Dr. Gustave Geley, a French physician and professor medicine, who gave up his practice of medicine in 1919 to become director of the newly organized Institut Metaphsychique International in Paris. He chronicled his experiments in a book titled Clairvoyance and Materialization: A Record of Experiments, which was published after his 1924 death in a plane crash.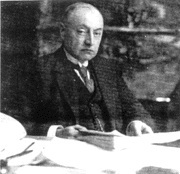 "Gustav Geley"
In a sitting during 1919 with the Polish medium Franek Kluski, Geley reported the materialization of a "strange creature between ape and man." It was described as having the stature of a man, with a simian face but a high, straight forehead, a large and soft tongue, with facial and body hair, with long arms and very strong hands, and smelling like a wet dog. It would take the hands of the sitters and lick them like a dog. Geley called the creature Pithecanthroupus. It manifested at several séances and at one séance rested its hairy head on the shoulder of one sitter while seizing the hand of another sitter and licking it.

In a sitting on August 30, 1919, Geley reported the "apparition" of apparently the same creature. "It was a creature as large as an adult man, very hairy, with a mane and bushy beard, resembling an animal or very primitive man; did not speak; but made hoarse noises, clicked his tongue, and ground his teeth," Geley recorded. "When called, he approached, allowed his fur to be stroked, touched the hands of the sitters, and scratched them lightly with claws rather than nails. This was an improvement on previous sittings, when he was violent and rough."

Four years later, during April 1923 in Geley's Paris laboratory, Sir Oliver Lodge, the distinguished British physicist and pioneer in electricity, radio, and spark plugs, and his wife, Mary, were among the sitters for an experiment with another Polish medium, Jean Guzik. Due to the sensitivity of ectoplasm to light, darkness was required. (While some mediums, such as Kluski, were strong enough to withstand red light, not all could.) Geley's protocol involved strip searching Guzik and dressing him in pajamas with no pockets, while sitters on each side of him would hold his hands. The doors were padlocked behind the sitters and sealed with gum paper signed by one of the experimenters. The sitters were then chained to each other and required to hold hands. "Under these conditions, control was absolute, in spite of the darkness, and the control of Guzik, which was extremely simple, gave entire satisfaction," Geley wrote.
Sir Oliver and Lady Lodge had their second sitting in Geley's laboratory on April 20. Also present were Professor Richet, Mme. Le Bert, Dr. Lassaliere, Mr. Sudre, and Geley. Sir Oliver recorded his observation that day for Geley: "I am touched on the back as by a fist. Then something passed over my head, slid over my face, and fell on my hands. It was Lady Lodge's hat, coming from the sofa behind her and to her right. The hands of the medium were held all the time by the little fingers. Lady Lodge is touched as by a tame animal…and with the back of her hand she feels something like the hairy breast of a large dog standing on its hind legs, or a man of small stature. We hear the sound of steps, which were those of a man rather than those of a dog. The ladies thought it might be a large ape or orang-outang. Lady Lodge was the only one to feel it on this occasion. The sensation given by the touch of this fur, which seemed to cover a firm breast, was very peculiar. There was no light despite our wish for it." Lodge added that Guzik appeared to be sleeping the whole time and they heard a voice from the entity, but no one understood what was said.
Lady Lodge recorded the experience: "We sat, connected by chains as at the former séance, but this time I took off my hat and placed it with my jacket on the sofa to my right, too far for me to reach it, and still farther from the medium, who was on my left. I felt myself stroked on the back as by a stump. This stump, or hand, or paw went to my hair and was entangled in the net which confined my hair. I then felt something pass over my head; it was my hat, carried towards Oliver."

The red light was then turned on and there was no evidence of the fury creature. After it was turned off, Lady Lodge again felt touches on the back and her hair was ruffled. She lifted her hand in the shackles and touched something hairy behind her. "It was very astonishing to feel that creature behind me," she added, but she further stated that the creature seemed "good natured."
Another experiment took place four days later, but Lady Lodge opted not to attend. Geley and Sir Oliver were joined by Count A, de Gramont, Mme. de C., Mr. Ollivier, and Count du Bourg de Bozas. Geley recorded that there were the sounds of footsteps and the displacement of furniture. Three pieces of paper and three pencils were thrown to the floor. Sir Oliver noted that there was enough light to observe the medium next to him and he did not move the entire time. He then felt something touching his arm. "Is it Fango?" Sir Oliver asked. "The creature seemed pleased and touched me twice. I asked if that meant 'yes' and was again touched twice. I asked if he knew Raymond, and if the latter were present. (Raymond was Sir Oliver's son, killed in 1915 on the battlefield). The answer was 'yes.' Is it Raymond who touches me? He answered 'no' by touching me once." The entity or creature then whispered in Sir Oliver's ear and he felt a breath. Sir Oliver thought he heard the creature ask for his name, but it seemed too banal to give it. With his hand shackled to Guzik's, Sir Oliver reached back and touched a hairy head. "It was round and hard like that of a man whose hair was cut short," he further recorded.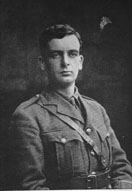 "Raymond Lodge"
Mme de C. also felt the creature touch her on the back and felt a hard head with short hair. Also, she felt a warm breath and her hat was disarranged. When the light was switched on, there was no evidence of the creature, but the displaced furniture was obvious.
Apparently, no one knew quite what to make of it. Lodge concluded that it was phenomena of low order. Between the second and third sittings, Sir Oliver and Lady Lodge sat with another medium and heard from Raymond, who said he was aware of what had happened at that second sitting. "He also told us that the creature we had touched was not an ape, but a primitive man of peaceable character, who answered to the name of Fango," Sir Oliver wrote. "That was the reason why, when next he appeared, I addressed him by that name."
Six years later, in 1929, Sir Oliver and Lady Lodge were sitting with Gladys Osborne Leonard, through whom Raymond often communicated over the years. The Paris experience came up and Raymond explained, "Strictly speaking, they had no individual existence as animals, they're only temporary representation of animals, who have life for the time being."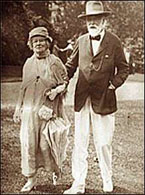 "Oliver and Mary Lodge"

Sir Oliver asked for clarification. "There's life in them, but that manifestation is temporary, it crumbles and dwindles away," Raymond responded. "If you were behind the scenes, Father, you would not see a discarnate animal withdrawing himself from the séance conditions and going back to his own spiritual home. You would see something disintegrating and being drawn back gradually, and absorbed again by one or more people on your side."
Raymond added: "It mightn't all get into them at once, it could hang about on the fringe of their etheric bodies until it could be absorbed again naturally. That may be very interesting on your side, Father, but we're not very interested in it from ours. We always wish that the same power of projection which evidently exists in those mediums could be controlled and used by a sensible body of guides so that we could use it and use it intelligently. Instead of which, it's bound to revert to a low type of elementary physical or animal life, if it controls on your side."
Raymond went on to explain that it is a kind of phenomenon such as is produced automatically through hypnosis or nightmare or anesthetics.
Then again, perhaps Fango was the spirit of a former pseudoskeptic or debunker stuck in the muck and mire of his own non-belief.
Michael Tymn is the author of The Afterlife Revealed: What Happens After We Die, Resurrecting Leonora Piper: How Science Discovered the Afterlife and Dead Men Talking: Afterlife Communication from World War I.

Comments
The ape-man of Kluski's has always fascinated me, and gives credence to the thought-form/tulpa theory of manifestations.
In this context it's worth mentioning that the parasocial/psi hypothesis (one friendly to an occult outlook, yet grounded in a scientific frame of reference) pertaining to bigfoots, sasquatchs, yetis, the Mande Barung, the Australian yowie and the like basically interpret bigfoot/yeti/apeman sightings as an unconscious exteriorisation/macroPK/tulpa phenomenon, a materialization of an archetype of the collective unconscious.
The seance materialisation of an ape-man is thus according to such a hypothesis, essentially the same dynamic at work as with bigfoot type sightings around the world, only the context differs (a seance setting indoors rather than hunters and campers in the woods who witness a sighting). The archetype's meaning of course is the wild-man, the primitive man, pre-civilization, more in tune with nature and the natural world, in touch with his instincts - the vital animal-man. He is the man or proto-man of the lost prehistorical ancient past, the lost Eden and his appearance represents the lost heritage of proto-man or man's innocent 'animal' past and our unconscious longing and nostalgia for this lost Eden. There are other meanings and intepretations given to this archetype, this is just the most obvious one.
Essentially witnesses to bigfoot sightings in the wild are acting as unconscious mediums, they are not passive witnesses at all! They just don't know it. Or to put it another way, if a bigfoot tramples through the woods and nobody is around to hear and see it, does a bigfoot trample through the woods at all? The answer is no! According to a parasocial/psi interpretation of bigfoot sightings at least.
I mention all this just to point out, how parapsychological and Fortean phenomena that are seen as separate categories and distinct mysteries, are not necessarily separate at all.
zephyr
, Wed 16 Feb, 15:00


The legend of Fango, the heroic, etheric ape-man. I'm sure plenty of troglodytes lived and passed on before around 20,000 B.C. So, why not?
Cyrus
, Tue 8 Feb, 13:20



Add your comment