Forever Family Foundation: Practical Bereavement
Posted on 27 March 2017, 8:48
When Bob and Phran Ginsberg (below) joined a support group for bereaved parents following the death of their daughter, Bailey, in an auto accident on September 1, 2002, they were informed that the subject of life after death was not suitable for discussion as it did not relate to coping with grief. "We found that odd," says Bob, a 65-year-old semi-retired insurance agent residing in Huntington, N.Y., "as we believed that the only thing that could provide comfort to bereaved parents was the possibility that their child still survived."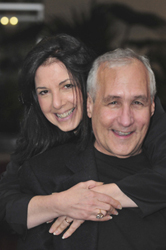 As the bereaved parents gathered in the parking lot after the meeting and shared what they had learned and experienced, Bob and Phran talked about the necessity for an outlet where people could discuss the survival issue "without being stopped in their tracks and without judgment." And so Forever Family Foundation, an all-volunteer charitable organization, established in 2004, now with approximately 10,000 members and growing, was conceived.
The organization's mission statement explains that its purpose is to establish the existence of the continuity of the family, even though a member has left the physical world; to stimulate thought among the curious ... to support the continued research into survival of consciousness and Afterlife Science; and to provide a forum where individuals and families who have suffered the loss of a loved one can turn for support information, and hope through state-of-the-art information and services provided by ongoing research…"
Bob vividly recalls that terrible day in 2002. "In the early morning hours, Phran sat up in bed, trembling, and clearly shaken. She said that 'something horrible is going to happen today.' Ordinarily, I would not pay much attention to such things, as I was a left-brained individual firmly rooted in my materialistic thinking. However, there were several times in our lives when Phran had similar 'dreams' that played out exactly as she had described.
So, even though I did not really believe in such things, the evidence told me that I should take this seriously. Of course, the first thing parents think of is the safety of their children, and we checked on our three children throughout the day. To make a long story short, I let my guard down at the end of the day, becoming reassured that Phran's feelings were not based in fact. After leaving a family dinner at a local restaurant, my son and daughter were involved in a horrible accident, and my 15-year-old daughter did not survive the crash."
Jonathan, Bob and Phran's son, was critically injured and for several weeks they did not know if he would survive. "Eventually, when it became evident that he would recover, we moved from a state of shock to utter despair,"
Bob further recalls. "I did not think it possible for me to survive the loss of my daughter, as I was trapped in a deep chasm of horror and utter hopelessness. However, what kept me going was the fact that Phran continued to have personal experiences, after-death communication, that I could not explain. Since the one thing in life I knew was that she would never lie to me, I had to take her at her word. Outwardly, I kept dismissing these things, which resulted in quite a few arguments, but deep inside the possibility of survival was what kept me going."
Bob admits that prior to Bailey's departure from the earth plane, he hadn't given much thought to survival, going about life "with all of the trappings of success – big house,
nice cars, and lots of toys."
Several months later, as Bob thought about Phran's prediction, he began looking for answers, talking with several scientists and consciousness researchers. Phran, on the other hand, did not require any confirmation of her "inner-knowing." There were times, he remembers, when he contemplated meaning and purpose, but none of the answers he could come up with made much sense and often resulted in bouts of mild depression. "I summarily dismissed the notion of survival of consciousness, as in my view we were our brains, and when our brains died, we died."
One day, Bob and Phran had some time before a scheduled appointment with Jonathan's rehabilitation doctors and visited a book store next to the medical offices. There, Bob noticed Dr. Gary Schwartz's book, The Afterlife Experiments. "I bought the book, devoured its contents, and rest is history. The immediate next step after reading the book was to seek the services of a medium featured in the book as I needed to determine for myself if this was simply a bunch of New Age BS."
Arrangements were made to sit in a group of about 10 people with trance medium Suzane Northrop. Initially, Bob thought about how ridiculous the whole thing was, but when the medium turned to him and gave him three pieces of extremely strong evidence, he began to realize that there might be something to it. One of the three pieces of evidence had to do with the fact that about a week before the session, Phran was alarmed by the smell of smoke in the house, causing her to get out of bed and search the house. "The medium said to me, 'Your daughter is telling me that you will know she is around by the smell of smoke.' Obviously, Phran's experience was unknown to the medium."
A second piece of evidence had to do with a little game Bailey (below) had played with her father when she would try to get him to say that she was his favorite child. He would always reply that he loved them all equally, but Bailey would just wink. "Dad," the medium said, "your daughter is making me tell you that she knows she was your favorite."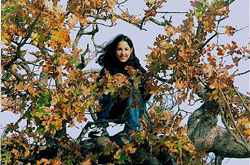 The third piece involved the medium telling Bob that Bailey was glad that all of her writings had been found. The fact was that Phran and their other daughter, Kori, had discovered a storehouse of Bailey's writing in her computer sometime after her transition and later had it published in a book entitled Hidden Treasures.
After forming the FFF in 2004, Bob and Phran hosted discussion groups, set up a website, began publishing a newsletter, developed a medium certification program, started a weekly radio show, and held various conferences, events, retreats, and demonstrations. Needless to say, unlike the support group they first attended, discussion of the survival issue was encouraged. They even hosted a talk at a local university about the afterlife, which drew a standing-room only audience of over 500. They have since discontinued the national conferences, as they have found that they can reach more people with weekly webinars.
"Some question how we are able to run such an organization with no traditional grants and free membership," Bob remarks. "Phran, who is the Director of FFF is a savvy MBA, but she will readily tell you that the universe has a hand in our success. Whenever she has concerns that funds are running low, an unexpected donation or opportunity always presents itself. The Foundation has a Scientific Advisory Board, an Academic Advisory Board, a Medium Advisory Board, and an Auxiliary Board." He adds that the Auxiliary Board is made up of discarnates with whom they seek guidance about running the foundation. Parapsychologist Loyd Auerbach, one of the world's leading experts on psychic experiences, is currently serving as president of the organization.
Bob is quick to point out that they do not act in the capacity of mental health practitioners or other such professionals, nor are they solely about mediumship. Their primary objective is to support the bereaved through information, including mediumship, near-death experiences, deathbed visions, reincarnation, instrumental transcommunication, other psi phenomena that show that the mind can act independently of the brain. "If our consciousness – mind or soul if you prefer – is not dependent upon the brain, surviving after the brain is no longer there becomes not only plausible, but logical," he states. "Of course, nothing can be more convincing than direct personal experience. However, many times the foundation of knowledge must come before one becomes open to recognizing personal communication."
While stressing that the FFF does not provide professional services, Bob is not afraid to take issue with the mainstream bereavement advice that one should get over it and get on with life as soon as possible, with no mention of the survival issue. "We believe that those who believe in survival do better in their bereavement than those who believe in the finality of death," he says, mentioning a study by The Windbridge Institute for Applied Research in Human Potential, "and professionals in the field are becoming increasingly aware of this fact."
For more information about Forever Family Foundation, check their website at foreverfamilyfoundation.org or email .(JavaScript must be enabled to view this email address).

Michael Tymn is the author of The Afterlife Revealed: What Happens After We Die, Resurrecting Leonora Piper: How Science Discovered the Afterlife, and Dead Men Talking: Afterlife Communication from World War I.

Next blog post: April 10


Comments
I am training licensed professional therapists, psychologists, psychiatrists to work with those who have lost someone and want to connect with them. My book is "Repair and Reattachment Grief Therapy". I have trained over 100 therapists in the U.S., Canada, Mexico in this protocol. It is successful in 98 percent of the clients we work with. The connection comes to the experiencer, not to me, which is wonderful. I agree people need to get validation from the other side. It is so healing. I will be at AREI Symposium September 15-18, 2017 in Scottsdale, Az. presenting and also training licensed therapists.
Rochelle Wright
, Fri 7 Apr, 06:40


I did the same since 1999.After the loss of 2 children, I was on a suicidal mood, but-all of a sudden- I've understood that I needed to react.Then I began to search for evidential proofs of survival reading books and surfing the Web (then was very hard to navigate!).Unluckily here in Italy is very hard to get funds and cooperation from Scientists but my website is among the tops here.
http://www.ampupage.it
Claudio
, Wed 29 Mar, 06:59


Mike,
Thanks for reminding us of this organization that can give help to those whose loved ones have transitioned.
These kinds of organizations could not have openly and fully existed many years ago.
The times are changing…slowly but surely.
Yvonne Limoges
, Tue 28 Mar, 19:35


Howard and Rick,
I fully agree with you, but it seems consistent with the way most psychologists deal with it. I don't recall the reference, but I remember reading a year or so ago that their approach is to "get over it and get on with life." I also recall seeing some statistics that psychologists are among the biggest non-believers in survival.
Also, it is consistent with the hospice policy of not discussing survival, which has been discussed here before. I understand that there are exceptions to the rule with hospices, and there are, I suppose, exceptions to the rule with grief support groups.
Michael Tymn
, Mon 27 Mar, 20:38


Bravo to Bob and Phran for creating such a wonderful organization that helps so many people, and promotes the sharing of true experiences, beyond what any religious teachings or scientism/materialism promote. As a health educator, I consider it my calling to openly speak of ADCs, which opens the door for others to share their ADC experiences. The human body is designed to heal itself, and the human psyche is also offered the healing experiences of ADCs and mediums' readings, in addition to all the other evidence for the continuation of our consciousness.
Jane
, Mon 27 Mar, 20:23


When I attended a grief support group sponsored by the local hospital after the death of my partner, I was also told that discussing after-death communications was off limit. I supposed that it was because of peoples' various religions and belief systems that did not approve of the existence of ADCs, and the hospital administration's not wanting to alienate anyone, or have anyone feel bad because they had not experienced ADCs. I quit the group.
Jane
, Mon 27 Mar, 20:15


Did the bereavement support group Bob and Phran originally went to have a dogmatic position against survival? Did some "leader" assume the right to limit discussion to approved subjects? It seems incredibly arrogant to determine what can and can't be said to grieving parents.
The reasonable and compassionate policy would have been to let Bob and Phran initiate a dialogue about survival. Who knows, maybe some other parents had had similar experiences of communication from their children on the other side. If the great majority of the group didn't want to hear about it, their objection could have been respected; but the topic should not have been taboo a priori.
Rick Darby
, Mon 27 Mar, 17:13


What an incredible assertion, Mike, that "the subject of life after death was not suitable for discussion as it did not relate to coping with grief??? Surely it is one of the greatest reassurances we have that we will meet deceased loved ones again on entry into the afterlife!?
Dr Howard A. Jones
, Mon 27 Mar, 14:50



Add your comment