'Life Eternal' Explained by "Titanic" Victim
Posted on 14 September 2020, 8:28
Before writing my 2012 book, Transcending the Titanic, I read everything I could find by or about William T. Stead, the famous British journalist who was a victim of the Titanic. I recently discovered that I missed an important reference, Life Eternal, a 1933 book just republished by White Crow Books. It is the record of afterlife communication said to be coming from Stead through the mediumship of Hester Dowden, aka Hester Travers Smith, and organized into a book by Estelle Stead, William's daughter.
Stead was on his way to New York to give a speech at Carnegie Hall on world peace when he met his end on the infamous ocean liner. His career as a journalist and author began during the 1860's when he became a reporter for a newspaper called the Northern Echo, advancing to editor in 1871. In 1880, he accepted a position as assistant editor of the Pall Mall Gazette, then became its editor in 1883. In 1890, he founded the Review of Reviews. He has been credited with having introduced the interview technique to British journalism while inventing the "New Journalism," bringing important topics in bright, colorful prose to the man in the street. Stead (below) was also well known in psychic circles as the founder of Borderland, a quarterly journal devoted to psychical matters, and as an automatic writing medium.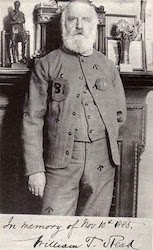 In a story written by B. O. Flower, the editor of Arena, a popular American publication, Stead is referred to as a cosmopolitan journalist "with a rare blending of intellectual force with moral conviction, idealism with utilitarianism, a virile imagination, and a common sense practicality that strove to make the vision a useful reality." Those qualities and characteristics apparently remained with him in the afterlife.
Dowden, (below) an Irish medium, was the daughter of Professor Edward Dowden, a distinguished Shakespearian scholar, and the wife of a prominent Dublin physician. She was primarily an automatic writing and Ouija board medium, sitting regularly with a small group of friends, including Sir William Barrett, a renowned physicist and psychical researcher. Geraldine Cummins, perhaps the most famous automatist in history, was introduced to mediumship by Dowden.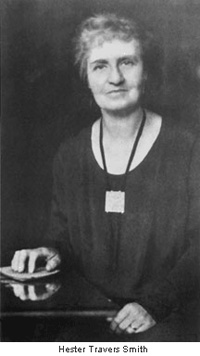 "[Dowden] is not a credulous or hasty investigator; on the contrary, the trend of her mind is healthily skeptical, and hence the opinions at which she has arrived cannot be dismissed as the product of morbid curiosity or the mere will to believe," Barrett wrote in the Introduction to her 1919 book, Voices from the Void.
It was on April 15, 1912, when Dowden received a very rapid message stating: "Ship sinking; all hands lost. William East overboard. Women and children weeping and wailing – sorrow, sorrow, sorrow." She had no idea what the message meant and no more came through at that sitting. Later that day it was reported that the Titanic had sunk. As a spirit claiming to be Stead communicated at subsequent sittings, Dowden concluded that because of the rapidity of the message she got the last name wrong in that very first message.
It is not clear from 1933 book when Dowden received the later communication, but indications are that it was many years after the Titanic went down, apparently during the 1920s or just before the book was published. "I have never been so fully conscious of the presence of a communicator as in the W. T. Stead case," Dowden wrote in the preface to the book. "I feel that he is entirely outside my personality, using me as an instrument with infinite skill. I find myself conversing with him exactly as I should if his bodily presence was beside me, discussing difficult problems and often arguing with him." She further noted that Stead communicated at about 3,000 words an hour, which prohibited any thinking process on her part.
Stead communicated that his early attempts at communication were not very successful, because although he knew pretty much what to do, he didn't know how to do it. Initially, he could shoot only short messages. "When we communicate with you, we have in a sense to form a body, a body that will compress the soul again to the dimensions it had before it cast off the body," he explained. "The whole thing is a strain. When we speak to you, we are in an unnatural condition." He added that the initial efforts were so difficult that he gave up on it for a few years (in earth time) before he tried again.
Here are some of the comments made by Stead through Dowden:
Language: "I am going to use the language of the inhabitants of the Earth, although here in my sphere language is no longer a necessity. Therefore, allowances must be made, if what I describe at times seems grossly material…If I speak of food or drink, houses, poverty, wealth, you must not take it that what I speak of is precisely the equivalent of your poverty and wealth, your food and drink, your houses, etc."
God: "In the sphere where I am now, we can still only speculate who and what 'He' is. We look on God as Life, the source of life and being, and we know that he is responsible for the universe and all that it contains. But whether he has a form similar to the human form, where he is a single personality or a vast group of personalities acting together in accord and harmony, we do not know and we can only get as far as the threshold of His house."
Christ: "Christ came forth from God as a manifestation of God. He was a Son of God in deed and in truth. After His manifestation He entered into God and remained as a personality in His teachings only. Christ as a person does not exist in any of the seven spheres, but His image can manifest there as a symbol of the personality that has passed into the Greater Life."
Jesus: "Jesus was the vehicle through which Christ worked. Jesus was a man, was not more divine than other men, but He was possessed of the power to give manifestation of the Divine which is not given to the ordinary man. Jesus passed into the creative spheres after He left the world, and now He has passed into the Greater Life."
Devil: "We know of no devil in the universe, but we do know that certain forces work for retrogression."
Death: "After death, the soul shoots out of the body, inflicting a terrific strain on itself. The cord uniting the soul with the body, which resembles the cord between the mother and the child, is not always severed at the moment of death; as a rule it is, but there are exceptions, and the term of severance depends to a certain extent on the knowledge the soul possesses of its conditions. With sudden death, the shock being great, the term of severance may be delayed for a long period, but this is the exception not the rule; in most cases of sudden death the cord is severed at once."
Subconscious: "The soul, being the whole personality, has a knowledge of the purpose for which it was created; it has also a knowledge of the development that is before it, but this knowledge is subconscious. And by subconscious, I mean that it does not take this knowledge into the part of the its consciousness that is active. While a man is on Earth, he only needs a fraction of his personality."
Corrupt Souls: "When he dies, he remains in a dream or rather in a nightmare condition until the desire to grow returns to him, the desire to have another chance and to forget the past."
Spheres: "We speak of seven spheres, seven different states, and in each of these there are seven planes. The spheres are of different quality, and the duration of the soul's sojourn in each is of a different length. The state which I call a sphere, is a mental condition. In each of the spheres we retain 'form.' Our bodies become more ethereal as we ascend, or if our choice prompts us to descend, we have more material bodies."
Education: "After the fourth sphere is passed, your education is complete. You have arrived at a stage where you no longer learn, you create. The last three spheres through which you pass are spheres of creative activity."
Group Soul: "Here, in the fifth sphere, you begin to pass into the Group, to create out of yourself, with the strengthening power of the Group that is behind you. There are no incongruities here. Quite naturally, you fall into your Group, or place, and do your work with its support."
Spiritual Evolution: "When it reaches the seventh sphere, the soul has full realization of itself. It understands its purpose, and then it is free to choose its destiny. It is no longer hampered by the laws which compel it to take the next step. It can choose its own road. But before that, free will is limited."
Reincarnation: "The first question you ask is: does the larger proportion of souls who come over from the Earth Sphere return to it? No, by far the larger proportion continue their development on our side, and do not enter the restriction of the physical body again."
While stressing that it is for the most part beyond human comprehension, Stead elaborated on much of the above and discussed other subjects, including time, afterlife relationships, activities, appearances, music, animals, and religion, in the first section of the book. In the second section, he discusses various types of mediumship and explains many of the difficulties encountered in spirit communication, including the possible distortion of messages by the medium's subconscious mind and "invasions" by low-level spirits stuck in the "Shadow Plane."
Next blog post: September 28

Michael Tymn is the author of The Afterlife Revealed: What Happens After We Die, Resurrecting Leonora Piper: How Science Discovered the Afterlife, and Dead Men Talking: Afterlife Communication from World War I.
His forthcoming book, No One Really Dies: 25 Reasons to Believe in an Afterlife is due in February 2021.

Read comments or post one of your own