On Not Wanting to be a "None"
Posted on 25 November 2019, 11:33
Several times during the past 15 years I have had to sit in front of a hospital admissions clerk and answer questions – full name, address, date and place of birth, spouse's name, doctor, insurance, prior surgeries, blood type, etc., etc. I rattled off the answers each time until the clerk asked for my religion. The first time I was asked the question I was stopped in my tracks as I didn't realize that religion was a pertinent question for a hospital admission. It quickly dawned on me, however, that they needed my religion in case things go awry and they have to call in a pastor of some kind to administer last rites or whatever it is they do. However, understanding the reason did not help me answer the question on the first admission or on subsequent admissions. I have had to ponder on my answer each time, because I refuse to be a "None."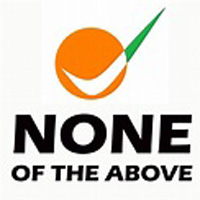 According to a recent Pew Foundation report, 26 percent of Americans are "Nones," which includes atheists (4%), agnostics (5%) and "nothing in particular" (17%). The report further indicates that 68 percent of those surveyed believe in God. The math suggests that 32 percent don't believe in God. Thus, there are some who declare a religion but don't believe in God (6%), no doubt some Buddhists among them.
While I'm probably overgeneralizing, my stereotypical None is a cynical know-it-all wise guy (or gal), usually someone still wet behind the ears. In more cases than not, Nones are former fundamentalist Christians who, with the help of their biology teachers, suddenly saw the light and realized that their parents had pulled the wool over their eyes and had duped them all those years about some big guy in the sky called God. In dismissing an anthropomorphic God, they have automatically dismissed survival. If someone brings up the overwhelming psychical research supporting survival, they turn to Wikipedia and then espouse the debunker's view of it all, seemingly unable to grasp the fact that there is no a priori need to identify and prove God before weighing the evidence for survival.
To the extent that I doubt the existence of an anthropomorphic (humanlike) God, I might be considered an atheist or at least an agnostic. But you don't have to believe in an anthropomorphic God to believe that consciousness survives death, and that is, or should be, the governing factor behind the question in the first place. If there is a God but no afterlife, what is the point of believing in God? I may be an atheist by a broad definition of the word, but I am not a nihilist.
On the other hand, not believing in an anthropomorphic God but believing that consciousness survives death does provide life with meaning, although one might see God as some kind of Cosmic Consciousness or Creative Force. "Neither a person nor a nation can exist without some higher idea," wrote Fyodor Dostoyevsky, (below) the renowned Russian philosopher and author of Crime and Punishment. "And there is only one higher idea on earth, and it is the idea of immortality of the human soul, for all other 'higher' ideas of life by which humans might live derive from that idea alone."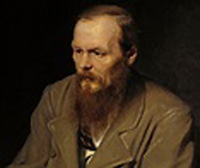 In effect, we can go on and on trying to prove God and never get anywhere, as it is all circumstantial evidence. As pioneering psychologist William James put it in his classic, The Varieties of Religious Experience, "…so long as we deal with the cosmic and the general, we deal only with the symbols of reality, but as soon as we deal with private and personal phenomena as such, we deal with realities in the completest sense of the term." As I interpret that, we should look at the evidence coming to us from studies of mediumship, near-death experiences, deathbed visions, and other psychic phenomena suggesting the survival of consciousness and forget about trying to find evidence of God.

If I were asked by a Pew researcher if I believe in God, I wouldn't know how to answer the question. I'd have to request clarification. "Do you mean an anthropomorphic God or some kind of Creative Force that is beyond human comprehension?" would be my question. Complete silence would likely be the immediate reaction.
I can imagine the perplexed reaction of the admissions clerk if I had hit her with my concerns or questions. I'm pretty sure her job description doesn't call for analyzing a person's philosophical views and condensing them down to one word. All she wanted was that one word to fill in the blank. I could have simplified things by declaring myself as a None, but I just couldn't bring myself to such a label.
I considered telling the clerk that I am a spiritualist, making sure that she understood that I am a spiritualist (with a small "s" and not a capital "S"). That is, I don't belong to a Spiritualist church of any kind; I'm a spiritualist to the extent that I am not a materialist. But a spiritualist (with a small "s") is not really a religion, so that would not be a proper answer. It might be as confusing as telling her that our 33rd president was Harry S Truman, not Harry S. Truman, i.e., no period after the S.
I still have a very vivid recollection of the time I attended a luncheon sponsored by a "lawyers for Christ" group and when the president of the organization was told by a friend that I authored a few books dealing with mediumship. She asked me how I could live with myself before she did an immediate about-face and walked away in disgust, no doubt wondering how such an agent of Satan could be in their midst.
I also considered telling the admissions clerk that I am a panentheist, but that is more a philosophy than a religion and I might have to explain how a panentheist differs from a pantheist. I doubt that I would be up to that, even if she were interested in an explanation.
I further considered that not wanting to be a None was a display of egoism on my part – wanting to be something rather than nothing. A truly spiritual person would bask in the humility of being a mere nothing; only a proud person would insist on being something.

I recalled the words of the "Master" in the classic Zen in the Art of Archery that one must become "egoless" if he is to hit the target. That led me to the wisdom of Shivas Irons in Golf in the Kingdom, when Shivas told Michael, "Ye try too hard and ye think too much…Let nothingness into your shots." In spite of those flashing thoughts, pride got the best of me and I refused to declare myself a None. I could accept being a simple None, but I didn't want to be a cynical wise-guy, know-it-all None.

Although all those thoughts took less than a second or two on that first admission, the pause was long enough for the admissions clerk to look away from her computer screen and at me in anticipation of my answer. As the hospital was run by the Seventh-Day Adventist Church, I wondered if the clerk might be of that denomination and further wondered if she might conclude that I am a heathen of some kind. By dictionary definition, I probably am a heathen, but, here again, my ego prevailed and I did not want to be thought of as such. Being a heathen might be worse in her eyes than being a spiritualist.
I couldn't take up any more of the clerk's time, so I had to come up with an answer. So I told her to put "Christian" without denomination. Even though I don't believe in the atonement doctrine, the bodily resurrection, the inerrancy of the Bible, and some other Christian beliefs, I do believe in the basic principles taught by Christ and set forth in the New Testament, e.g., Do unto others…, Love thy neighbor….,By their fruits you shall know them….etc., and I look to Jesus as the "Chairman of the Board" on the Other Side.
I accept the words of the group soul known as Silver Birch, who said, "There has never been on earth anyone through whom the manifestation of the spirit has been greater than through the Nazarene. There has never been any through whom the laws have revealed themselves as so great an intensity as the Nazarene." So even if a garden-variety Christian priest or minister shows up on my hospital deathbed, I am prepared to welcome him or her. It's probably best, however, that I not mention my "demonic" beliefs derived from psychical research.
Next blog post: December 2
Michael Tymn is the author of The Afterlife Revealed: What Happens After We Die, Resurrecting Leonora Piper: How Science Discovered the Afterlife, and Dead Men Talking: Afterlife Communication from World War I.
Read comments or post one of your own