Scientist Reports on 10 Years of Research with Mediums
Posted on 28 January 2013, 17:30
In the epigraph heading up Chapter 1 of a recently released e-book, Among Mediums, Professor James Hyslop, a dedicated psychologist and psychical researcher of a century ago, is quoted as asking, in effect, why science aimed at discovering man's origin is considered so honorable while science aimed at determining where man goes after death is seen as so dishonorable. It was so "dishonorable" that when Hyslop, while teaching ethics and logic at Colombia University, showed an interest in psychical research one of his academic colleagues tried to have him fired.
Dr. Julie Beischel, (below) the author of the book, has likely asked that same question many times during her 10 years of research with mediums. At least, Hyslop had a little company in his research with mediums. Beischel is much more a loner in that respect.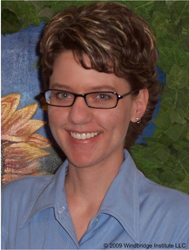 Although Hyslop and a number of other esteemed scholars and scientists of that era who closely studied some credible mediums found an abundance of evidence strongly suggesting the humans survive death in another realm or dimension of existence, and even offered some clues as to what the "afterlife" is like, mainstream scientists and academicians turned up their noses at their findings, seeing it all as a retreat to the superstitions and follies of organized religion rather than "progress" – progress meaning acceptance of a materialistic philosophy holding that we are nothing but atoms and molecules marching toward an abyss of nothingness.
During the 1930s, psychical research changed to parapsychology and the focus to extrasensory perception (ESP) while the survival issue was swept under the rug and the work of the pioneering psychical researchers filed away in dust-covered cabinets. It became at least somewhat respectable to delve into our "sixth sense" capabilities, but few parapsychologists dared to link that sixth sense with spiritual consciousness or life after death. To do so would likely result in loss of reputation and loss of funding. No "enlightened" person could possibly entertain the idea that such things as spirits of the dead exist and can communicate with us through mediums.

Ironically, even orthodox religion rejected survival research, probably because some of the findings of the psychical researchers conflicted with established dogma and doctrine, thereby threatening the authority and wisdom of Church leaders.
When the study of near-death experiences (NDEs) began during the 1970s, researchers avoided the survival issue, saying that the research was aimed at helping people in the here and now deal with everyday problems. The implications relative to the survival of consciousness after death were avoided as much as possible. It has been only in the last 15 or so years that a few courageous scientists have risked showing any interest in studying mediumship and picking up where those esteemed researchers of yesteryear left off. Dr. Beischel is one of those few.
As Beischel states in the first chapter, the book is not for academics, although they, too, might learn something. "This is a book for people who are interested in what science has to say about modern mediums," she explains. "It's for people who have seen what television producers imagine appeals to the public and who now want the real story."
Unlike many scientists and academicians, Beischel doesn't beat around the bush in stuffy language with a dozen references listed after every sentence. She gets right to the point, often injecting a little humor in her discussion of her research. She quotes George Bernard Shaw, who said, "Life does not cease to be funny when people die any more than it ceases to be serious when people laugh."
Beischel explains how she became interested in mediums, telling of her first (and only) mediumship reading. "I felt strangely normal for having just spoken with my dead mother," she writes. "I decided that the only thing weird about the experience was that somehow it wasn't weird at all. It felt very real and very normal. She goes on to discuss the scientific methodology used in her studies while offering results and examining the arguments that to some extent conflict with the survival hypothesis.
"There are several spontaneous phenomena that occur during mediumship readings that tend to be more evidential of survival than of psi," Beischel writes. "These include mediums being 'corrected' by discarnates during readings and being surprised by the information they receive (which sometimes results in the giggles). We wouldn't expect those types of phenomena if the medium was using psi to reach out to acquire the information, but they are indicative of communication [with the dead]." She goes on to explain that the difference between "retrieving" and "receiving" information lends itself to the survival hypothesis, before examining the practical application of her research and areas of future research at The Windbridge Institute, which she operates with her husband, Mark Boccuzzi, in Tucson, Arizona. (http://www.windbridge.org/)
As Hyslop and other researchers came to realize, we will never get absolute proof of an afterlife; in fact, such proof might very well conflict with the purpose of our lives. However, such research as carried out by Hyslop 100 years ago and by Beischel and her associates today helps us move from blind faith and fear to real faith, or conviction, and peace of mind.
______________________________________________
Happy 110th Birthday: On February 4, Dr. Alex Imich, no doubt the oldest living psychical researcher, turns 110 A resident of New York City, Dr. Imich was born in Poland and served an ambulance driver for the Polish army during World War I. He became interested in psychical research during the 1920s and moved to the United States soon after WWII, where he continued his research. Happy Birthday, Alex!!! For more about Dr. Imich, see my blog of February 3, 2012 at Alex Imich
______________________________________________
A Don't Miss Conference: The Academy for Spiritual and Consciousness Studies, Inc. (ASCSI) will hold its 38th annual conference on "Spirituality, Consciousness and Science" at the Wyndham Virginia Beach Oceanfront in Virginia Beach, VA on May 17-19, 2013. Speakers such as Raymond Moody, M.D., Ph.D., PMH Atwater, L.H.D., Vernon M. Neppe, M.D., Ph.D. and James E. Beichler, Ph.D. will give presentations. It is also an opportunity to tour Edgar Cayce's A.R.E. For details, go to the ASCSI website - www.ascsi.org - for photographs, biographies, presentation abstracts of all speakers and registration details with an Early Bird discount by March 1, 2013.
Michael Tymn is the author of The Afterlife Revealed: What Happens After We Die is published by White Crow Books. His latest book, Resurrecting Leonora Piper: How Science Discovered the Afterlife is now available on Amazon and other online book stores.
Next Blog: February 11