"Soul Mist" – the Most Popular Subject
Posted on 02 January 2017, 11:05
Of the 160 posts at this blog since it moved to White Crow in April 2010 after several years at another site, the one with the most views was posted on October 4, 2010 and is titled "Strange Deathbed Mist and Light Explained." The subject was also dealt with in my post of June 11, 2012 (click here and scroll down). Based on the comments left at the two posts, I gather that people who have experienced something mysterious at deathbeds begin searching the Internet for some explanation and find their way to those posts, especially that of 2010. A number of them have told of their experience in the comments section.
As discussed in those two previous blog posts, many people have observed a strange mist over a deathbed, often at the time the person departs the physical body. "Some say that it looks like smoke, while others say it is as subtle as steam," Dr. Raymond Moody (below) wrote in his 2010 book, Glimpses of Eternity. "Sometimes it seems to have a human shape. Whatever the case, it usually drifts upward and always disappears quickly." Moody also wrote of people seeing unusual light in the room.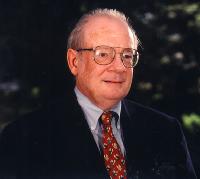 In their excellent 2008 book, The Art of Dying, Dr. Peter Fenwick, a renowned British neuropsychiatrist, and Elizabeth Fenwick also discuss the "smoke," "grey mist," or "white mist" which leaves the body at death. "Sometimes it will hover above the body before rising to disappear through the ceiling, and it is often associated with love, light, compassion, purity, and occasionally with heavenly music," they write, adding that not everyone who is in the room sees it.

In his 1970 book, Out of the Body Experiences, Dr. Robert Crookall quotes Dr. R. B. Hout, a physician, who was present at the death of his aunt. "My attention was called…to something immediately above the physical body, suspended in the atmosphere about two feet above the bed. At first I could distinguish nothing more than a vague outline of a hazy, fog-like substance. There seemed to be only a mist held suspended, motionless. But, as I looked, very gradually there grew into my sight a denser, more solid, condensation of this inexplicable vapor. Then I was astonished to see definite outlines presenting themselves, and soon I saw this fog-like substance was a assuming a human form."
Such misty vapors and "lights" around the deathbed have been reported by other researchers, including Dr. Bernard Laubscher, a South African psychiatrist. "I was told by different 'Tant Sannies' (caregivers) how while watching at the bedside of the dying one with one or two candles burning they had seen the formation of a faint vaporous body, an elongated whitish purplish-like cloud; parallel with the dying person and about two feet above the body," Laubscher wrote in a 1975 book, Beyond Life's Curtain. "Gradually this cloudlike appearance became denser and took on the form, first vaguely and then more definitely, of the person in the bed. This process continued until the phantom suspended above the body was an absolute replica of the person, especially the face."
As Laubscher came to understand it, the vaporous material has the same makeup as ectoplasm, the mysterious substance given off by physical mediums before materializations. It acts as sort of a "glue" in bonding the physical body with the spirit body, and the more materialistic a person the denser the ectoplasm and the more difficulty the person has in "giving up the ghost." Ectoplasm has also been referred to as teleplasm, psychoplasm and psychic force.
Soul mist and ectoplasm may very well be the same thing that German chemist Baron Karl von Reichenbach (1788-1869) called odic force, or just od, or odyle. As I discussed in the November/December issue of Atlantis Rising magazine, it may have been the most important discovery in the history of mankind – a "life principle" that permeates all living things. It has been likened to the prana of the ancient Hindus, the vis medicatrix naturae of Hippocrates, the mana of Polynesian culture, the chi of the Chinese, the astral light of the Kabbalists, the telesma of Hermes Trismegistus, the magnetic fluid of Mesmer, and the orogone energy of Reich.
While Reichenbach was well respected in the scientific world, having discovered paraffin and creosote, and was considered one of the world's foremost authorities on the subject of meteorites, his findings on od were rejected, even ridiculed, by mainstream science when first published in 1845, and they are forgotten or ignored today.
Reichenbach's research involved studying a number of "sensitives" – people who today might be called clairvoyants or clairsentients – it did not include any kind of "spirit" intervention. It focused on "mind-over-matter" tasks, such as identifying objects in a dark room, dowsing for water in an open field, and moving the needle of a compass without touching it – activities outside the normal five senses and in defiance of known science, what modern-day parapsychologists refer to as extra-sensory perception or ESP.
If soul mist, ectoplasm, and odic force are, in fact, one and the same thing or are related, they take on, as Moody reported, various densities – from a misty vapor to a foamy or slimy substance looking like shaving soap – flowing from one of the orifices of a so-called "medium" in an entranced state – from the mouth, ears, nostrils, vagina and even the pores. Some of the photos show what are claimed to be materialized human forms – occasionally just a face or an arm – forming within the ectoplasm.
If we are to believe the debunkers and skeptics, ectoplasm is nothing more than cheesecloth stuffed into one or more of the cavities of the body and then regurgitated at an opportune time, the sole purpose being to dupe those present. However, it is difficult to imagine cheesecloth being stuffed into the pores of the skin or in the nostrils or ears and then extruded from those orifices, then flowing on the floor. (See photo of ectoplasm flowing from medium Kathleen Goligher as photographed by Dr. William J. Crawford, below).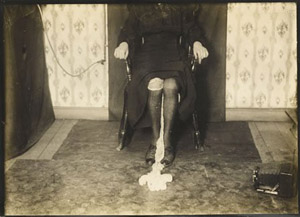 It was Professor Charles Richet, the Nobel Prize in medicine in 1913 for his research on anaphylaxis, the sensitivity of the body to alien protein substance, who gave the name "ectoplasm" (exteriorized plasma) to the substance. "The word 'ectoplasm,' which I invented for the experiments with Eusapia (Paladino), seems entirely justified," he wrote, explaining that it is a kind of gelatinous protoplasm, formless at first, that exudes from the body of the medium, and takes form later. "In the early stages there are always white veils and milky patches and the faces, fingers, and drawings are formed little by little in the midst of this kind of gelatinous paste that resembles moist and sticky muslin."
Richet mentioned that there are stages in the materialization process. "[First,] a whitish steam, perhaps luminous, taking the shape of gauze or muslin, in which there develops a hand or an arm that gradually gains consistency. This ectoplasm makes personal movements. It creeps, rises from the ground, and puts forth tentacles like an amoeba. It is not always connected with the body of the medium but usually emanates from her, and is connected with her." The flat materializations, which skeptics pointed to as obvious evidence of fraud, came, Richet explained, in the rudimentary phase, a sort of rough draft in the phase of building up.
That ectoplasm is a scientific fact, Richet had no doubt, though he called it "absurd." "Spiritualists have blamed me for using this word 'absurd' and have not been able to understand that to admit the reality of these phenomena was to me an actual pain," he explained his position. "But to ask a physiologist, a physicist, or a chemist to admit that a form that has a circulation of blood, warmth, and muscles, that exhales carbonic acid, has weight, speaks, and thinks, can issue from a human body is to ask of him an intellectual effort that is really painful. Yes, it is absurd, but no matter – it is true."
A century after Richet's discoveries, mainstream science still laughs at it all. How sad!

Next blog post: January 16
Michael Tymn is the author of The Afterlife Revealed: What Happens After We Die, Resurrecting Leonora Piper: How Science Discovered the Afterlife, and Dead Men Talking: Afterlife Communication from World War I.

Comments
Mike,
Thanks for the explanation. I have great respect for Dr. Crawford's good sense and concern for the effects on Kathleen Goligher of his experiments. And it must have taken courage on her part to finally agree to being photographed while being lit up as she was releasing ectoplasm.
Incidentally, I had never before heard of Dr. Crawford or Kathleen Goligher. I seem to learn something with each of your blog postings!
Rick Darby
, Wed 4 Jan, 19:50


Rick,
The ability to tolerate light seems to be an individual thing. D. D. Home and several others did not require darkness,although they produced much better phenomena under subdued light or near darkness. Other mediums could produce under red light but not white light, while still others could cannot tolerate even red light. It seems to be a matter of strength of the medium, no different than some people can chin themselves 30 times or more and some can't chin themselves one time.
In his book, "The Psychic Structures of the Goligher Circle," Dr. Crawford, who had 87 sittings with Kathleen Goligher over a period of 2.5 years, said that the operators (the spirits controlling on the other side) would not permit photographs until the very end of his research and then under very controlled conditions. "The chief difficulty seemed to be in preventing injury to the medium," Crawford wrote (pg. 172) The operators said it was necessary gradually to work her up to withstand the shock of the flashlight upon the plasma; nor is this much wondered at this when it is considered the plasma is part of her body exteriorised in space. I tried all sorts of arrangements to obtain the desired results. One of these was to hang a black cloth in front of the lower part of her body and to get the operators to bulge the cloth out by structures acting from behind, when they would be considerably protected from the flash. This method was successful so far as it went."
Crawford offers several pages on how he took the dozen or more photos. "The shock to the medium, evidenced by involuntary trembling and shivering which endures for a considerable time, is very much greater when the flashlight impinges on the plasma under stress than on the unstressed stuff," Crawford further noted.
Apparently, Goligher was a strong medium who was able to withstand a flash here and there, and there was much concern by the operators, but they subjected her to the risk after more than two years of forbidding it.
Michael Tymn
, Tue 3 Jan, 19:11


I thought that physical mediums in particular must avoid light while they are working. How was the photograph of Kathleen Goliger taken? A flashbulb (remember those?) especially would probably have been a shock to the system.I am mist-ified.
Rick Darby
, Tue 3 Jan, 01:24


I never would have imagined that, of all the blogs you've written, this would have garnered the most comments. Testimony to a much overlooked phenonemon?
Stafford Betty
, Mon 2 Jan, 21:07



Add your comment