Was Doctor/Minister the Titanic's Bravest Man?
Posted on 20 February 2012, 15:23
As the Titanic plunged to the bottom of the Atlantic Ocean 100 years ago this April 15, Colonel Archibald Gracie, a New York resident, was sucked down with it. However, he somehow managed to surface and survive. Gracie could not judge how long he was under water, but it "seemed an interminable time until I could scarcely stand it any longer." He concluded that the life preserver he wore prevented him from being drawn down by suction to a greater depth. In a book he wrote later that year about the experience, he recalled thinking that he wanted to convey the news of how he died to his loved ones at home. And he remembered praying and saying to his wife, "Good-bye until we meet again in heaven."
Gracie was one of the last, if not the last, survivor to leave the ship. About 10 minutes before the ship went down, he and several others struggled to launch a collapsible life boat. Just as they broke it free, they were hit by a giant wave, apparently from one of the ship's four funnels, i.e., smoke stacks, collapsing and falling. "The big wave carried the boat off," Gracie related. When he finally surfaced, Gracie grabbed on to a piece of floating debris and noticed that the ship was gone. He then saw the collapsible life boat overturned and made his way to it, climbing onto it with a dozen or more men already on it. "The agonizing cries of death from over a thousand throats, the wails and groans of the suffering, the shrieks of the terror-stricken and the awful gaspings for breath of those in the last throes of drowning, none of us will ever forget to our dying days," he recalled those moments. "'Help! Help! Boat ahoy! Boat ahoy!' and 'My God! My God!' were the heartrending cries and shrieks of men, which floated to us over the surface of the dark waters continuously for the next hour, but as the time went on, growing weaker and weaker until they died out entirely."
Gracie recalled no stress during the time he was under water and felt "full of vigor" when he surfaced and as he made his way to the life boat. He credited his ability to undergo the ordeal to his physical, mental, and religious training. In all, 30 men, mostly crew members, ended up on the bottom-up boat. When it was fully occupied, those on board had to push away others who were trying to mount it. It was during this time that Gracie heard what he called a "transcendent piece of heroism that will remain fixed in my memory as the most sublime and coolest exhibition of courage and cheerful resignation to fate and fearlessness of death." This was when one swimmer was refused assistance and turned away by others on the raft. In a "deep manly voice of a powerful man," which Gracie did not recognize, Gracie heard the swimmer reply: "All right, boys; good luck and God bless you." The man then swam away.
To my knowledge the brave swimmer was never identified. When I first read Gracie's book many years ago, I wondered if that swimmer might have been William T. Stead, a British journalist who was observed by other passengers courageously facing up to his demise as the ship was sinking. But as I did research for my recently-released book, Transcending the Titanic I came upon information suggesting that Stead was hit by the falling funnel, and other information that leads me to believe that the brave swimmer was more likely Robert J. Bateman, (below) a 51-year-old Baptist minister and physician from Jacksonville, Florida. A second-class passenger, Bateman had been visiting relatives in Bristol, England and taking part in a revival. He was returning to Jacksonville with his sister-in-law, Ada Balls, and other members of the revival group. Ada Balls later recalled: "Brother forced me into the last boat, saying he would follow me later. I believe I was the last person to leave the ship. Brother threw his overcoat over my shoulders as the boat was being lowered away and as we neared the water, he took his black necktie and threw it to me with the words, 'Goodbye, God bless you!'"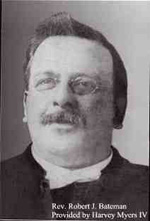 As Bateman reportedly said "God bless you!" to his sister-in-law before leaving her, and the rejected swimmer said "God bless you!" before swimming away, Bateman emerges as the best candidate for the heroic swimmer mentioned by Gracie. Moreover, Bateman was a second-class passenger and Gracie a first-class passenger, which could explain why Gracie did not recognize the man's voice.

Ten days after the disaster, Bateman's widow received a letter her husband had mailed to her when the Titanic had stopped for more passengers in Ireland. "I feel that my trip has not been in vain," Bateman wrote. "God has singularly blessed me. We had a glorious revival… It was the Time of My Life." His nephew, Tom, also received a letter mailed from Ireland. "Tom," he wrote, "if this ship goes to the bottom, I shall not be there, I shall be up yonder. Think of it!"
Later, when the family opened up Bateman's locked roll-top desk, a poem he had written was found on top of his papers. It read:
Do you shudder as you picture
All the horrors of that hour?
Ah! But Jesus was beside me
To sustain me by His power.
And He came Himself to meet me
In that way so hard to tread
And with Jesus' arm to cling to
Could I have one doubt or dread?
Bateman's body was recovered three weeks later by a cable-laying vessel.
Michael Tymn's latest book Transcending the Titanic: Beyond Death's Door is published by White Crow Books and available from Amazon and all good online book stores, along with The Afterlife Revealed: What Happens After we Die

Paperback Kindle
Transcending the Titanic by Michael Tymn
Paperback Kindle

Next post: March 5. More about William T. Stead in an April post.